4th Annual IronMind Grip Classic
"The 4th Annual IronMind Grip Classic will take place in Norway this year," Jyrki Rantanen reported to IronMind.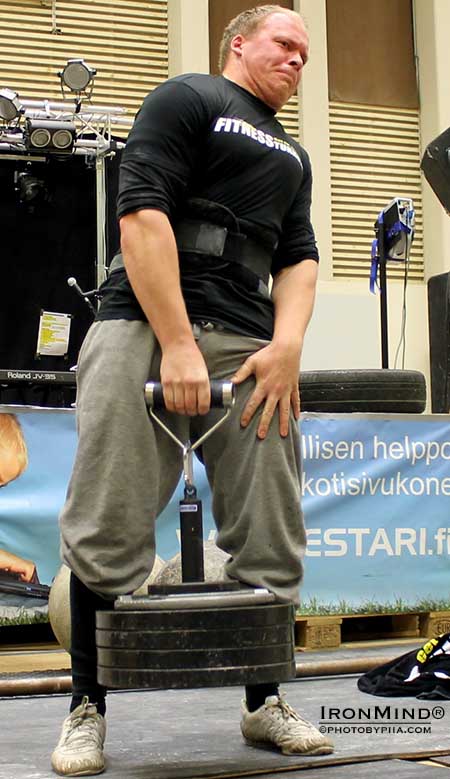 Eirik Bruun Ingebretsen, shown competing on the Rolling Thunder®, is certified on the Captains of Crush No. 3 gripper and now he's turning his grip passion and prowess to promotion, as he hosts the 4th Annual IronMind Grip Classic. IronMind® | Photo courtesy of www.photobypiia.com


The IronMind Grip Classic features the three principal events in the grip strength world:

• Rolling Thunder
• Apollon's Axle Double Overhand Deadlift
• Captains of Crush (CoC) Hold

as well as:

• IronMind Pinch Grip Block Hold (30 kg/men, 15 kg/women)


Eirik Bruun Ingebretsen is promoting the event and it will be held in the legendary Valhalla gym in Tvedestrand, Norway on October 18, 2014.

Ingebretsen is a certified on the Captains of Crush No. 3 gripper and is a veteran of grip contests put on by Jyrki Rantanen, who introduced the IronMind Grip Classic in Finland and has since increased international involvement, first in terms of competitors and now with its promotion and organization.


"Different than before, no pre-qualifications, so anyone who enters could potentially win," Rantanen said, but don't think this means victory will be easy. "Along with some well known names, many new talents, especially from Norway, might surprise the grip world.

"I´m glad to see the IronMind Grip Classic growing this way because moving the competition to different countries gives more people the opportunity to join in. Eirik has been one of the top performers in this competition during the past years and I raise my hat to him as he now also takes this big step and becomes the organizer, too, said Rantanen."

For more details, please visit the official Facebook page.

###

Want to talk strength? Join the IronMind Forum.

You can also follow IronMind on Twitter and on Facebook.