48-kg: Close Battles, Taylan on Top
Lignano Sabbiadoro - After a dramatic opening ceremony based on elements from Federico Fellini's film La Strada, the action started in the 2008 European Weightlifting Championships with the women's 48-kg class, featuring 2004 Olympic gold medalist, Nurcan Taylan (Turkey).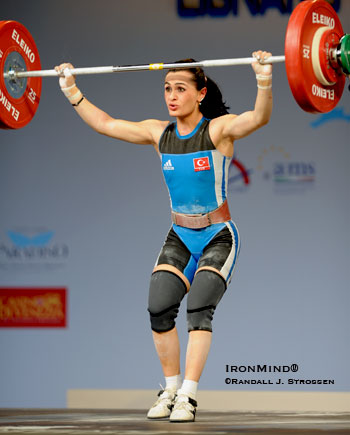 2004 Olympic gold medalist Nurcan Taylan prevailed at the European Weightlifting Championships last night. IronMind® | Randall J. Strossen photo.
This was not going to be an easy night for Taylan, as she was pressed hard by two juniors, her teammate Sibel Ozkan and local favorite Genny Pagliaro (Italy). Taylan missed 87 kg on her first attempt in the snatch, missed it again on her second attempt and then managed to make it on her third attempt. Ozkan took 88 kg on her second attempt, going for first place in the snatch and a junior European record - she looked to have made the lift, and started smiling, only to lose the bar behind as she was standing up. Pagliaro followed with the same weight on her third attempt and made a good lift, gaining gold medal position in the snatch and the junior European record. Ozkan repeated with 88 kg on her third attempt, but missed the lift.

Pagliaro's third attempt in the clean and jerk (106 kg) was a good, solid lift and it gave her the new junior European record in the total (194 kg), breaking Taylan's record (192 kg). Taylan missed the jerk on her second attempt, 109 kg, but came back to make it; once again, it was determination as much as anything that got the bar overhead. Ozkan followed with 110 kg on her second attempt and made a good lift, picking up the gold medal in the jerk, and breaking the junior European record in the jerk and in the total. Even though Ozkan looked very strong on the 110-kg second attempt, 111 kg looked completely different on her third attempt, as she struggled to stand up after racking the bar, and then she missed the jerk.

Taylan got the gold in the total (196 kg) on bodyweight, edging Ozkan, and Pagliaro got the bronze with 194 kg.