Antalya, Turkey – Things went anything but as predicted in the 85-kg class class at the World Weightlifting Championships as powerhouse Armenia scored no team points, China finished out of the medals and the three golds went to three different lifters.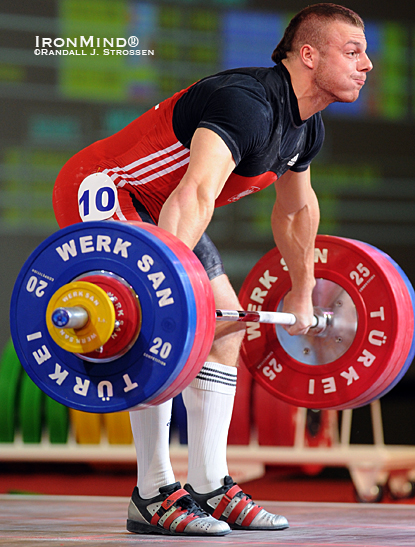 85-kg Adrian Zielinski (Polish) snatched 173-kg for the silver medal in the snatch at the 2010 World Weightlifting Championships, where he also won the bronze medal in the clean and jerk, and the gold medal in the total. IronMind® | Randall J. Strossen photo.

That the podium might yield some surprises was apparent as the B session included three lifters capable of uncorking formidable clean and jerks: Benjamin Hennequin (France), Kendrick Farris (USA) and Yoelmis Hernandez (Cuba). Farris bombed in the snatch and withdrew; and Hennequin posted a respectable but not sensational 202-kg clean and jerk. Hernandez, however, showed his stuff by walking through 200, 206 and then 210 kg, which established the feeling that his last lift would put real pressure on the A-session.

The A-session was packed with a narrow bandwidth on the attempts, a pile of misses, and more than one unpleasant surprise.

If there were a most-disappointed-team award, it would have to go to Armenia as it had two proven talents in this class — Tigran Martirosyan and Ara Khachatryan — yet it left with zero points in the total as Martirosyan appeared to choke as he only pulled his snatches and then withdrew, and Khachatryan, after winning the gold medal in the snatch, dislocated his right elbow on his first clean and jerk. Defending Olympic and world champion Lu Yong (China) only made his opening snatch and after a less than silky smooth first attempt in the clean and jerk, he retired from the competition.

With no Andrei Ribakov in sight, his team mate Siarhei Lahun bore the mantle of Belarus and left with the gold medal in the jerk, edging out Hernandez by 1 kg. Russia's Aleksey Yufkin waited out Lahun and then went for the 212-kg clean and jerk he needed for first place in both the jerk and total, but the weight was beyond him both mentally and physically. Adrian Zielinski (Poland) rounded out his silver medal in the snatch and bronze medal in the clean and jerk with the gold medal in the total (383 kg).

###


Want to talk strength? Join the IronMind Forum!

You can also follow IronMind on Twitter.