2015 IHGF World Highland Games Championships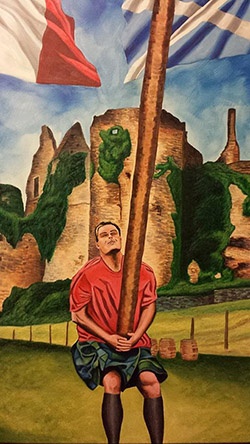 Francis Brebner reported to IronMind on preparations for the 2105 International Federation of Highland Games (IHGF) World Championships, set for Bressuire, France.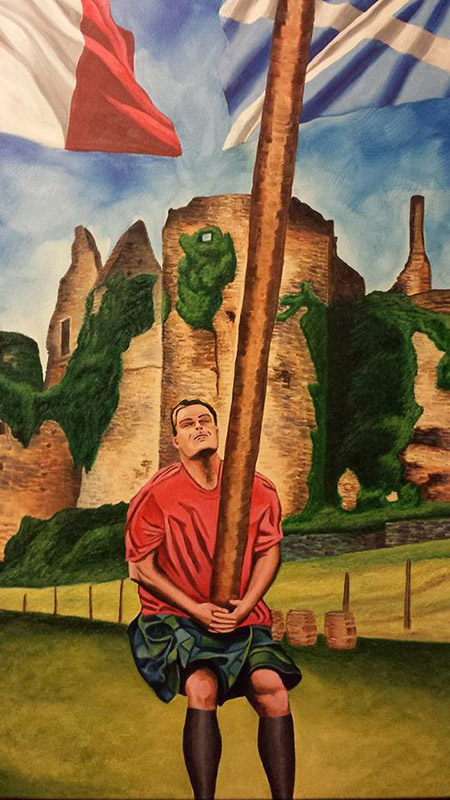 This Andrew Hobson painting depicts Highland Games star Dan McKim tossing the caber in front of the Château de Bressuire. IronMind® | Artwork courtesy of Andrew Hobson/IHGF


Stage Set for 2015 IHGF World Highland Games Championships
by Francis Brebner
CEO, International Highland Games Federation

Bressuire, France is the setting for the 2015 IHGF World Highland Games Championships; the annual games held in Bressuire are one of the paramount games on the international circuit, drawing 12,000-plus spectators. The Château de Bressuire is a beautiful medieval castle in ruins, with panoramic views all around, a perfectly wonderful setting to host a World Highland Games Championships. The castle dates back a thousand years and creates an atmosphere of truly stepping back in time.

Come 13–14 June, 2015, twelve of the world's top-ranked athletes from nine countries will compete over two days for this coveted title in the sport of Highland games. All athletes will be drug tested, and for the future, the IHGF is looking into putting in place procedures for out-of-season drug testing.

The line-up of athletes includes: Dan McKim (USA), Matt Vincent (USA), Matt Doherty (Canada), Sinclair Patience (Scotland), Craig Sinclair (Scotland), Scott Rider (England), Lukas Wenta (Poland), Sebastian Wenta (Poland), Róbert Fazekas (Hungary), Jono Macfarlane (New Zealand, Pieter Karst Bouma (Netherlands), and Jimmy Van De Walle (Belgium).

The IHGF World Highland Games Championships will be captured on film and made into a program for various TV networks within Europe.

To commemorate the 2015 IHGF World Highland Games Championships, the IHGF has commissioned a special painting by Andrew Hobson, a former Highland games thrower and a well-known American Navajo artist. The painting depicts Dan McKim tossing the caber, showcasing the majestic backdrop of the Château de Bressuire. The photo used for this painting was taken by former Highland games athlete Larry Ventress, who an avid photographer on the international Highland games circuit. The painting will be presented by the IHGF to the town of Bressuire in a special ceremony to mark the prestigious occasion.

The IHGF wishes to acknowledge Jean Louis Coppet and the Bressuire Games Committee and all the people of Bressuire involved in the games for their many contributions and their kind and generous hospitality, which has made the Bressuire Highland Games one of the best.

Anyone thinking of making the journey to watch the games and all the ceremonies should start looking into booking reservations; this will without doubt be the major pro world championships staged in 2015. More exciting news will follow with a special twinning of games between Bressuire and another from across the pond.

###



Want to talk strength? Join the IronMind Forum.

You can also follow IronMind on Twitter and on Facebook.