2nd World Armlifting Championships
Andrey Sharkov, president of the Ukraine Armlifting Federation, and vice president Vyacheslav Gorbunov have announced the 2nd World Armlifting Championships to be held in Crimean, Ukraine September 21–22.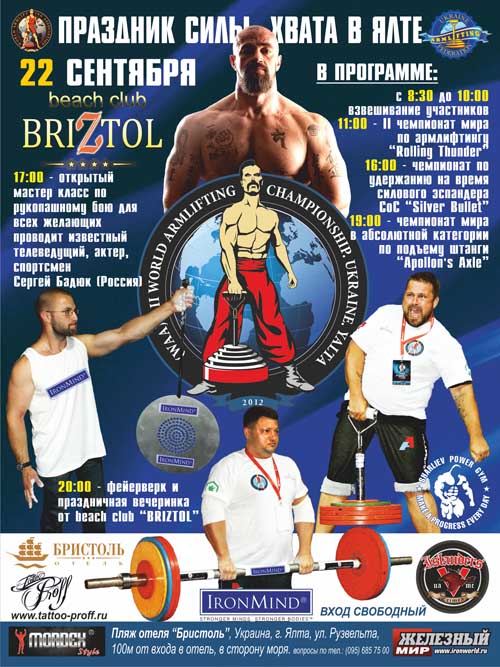 Just starting off or ready to prove that you're the best in the world on the Rolling Thunder, CoC Silver Bullet or Apollon's Axle Deadlift? Either way, the 2012 World Armlifting Championships has a place for you. IronMind® | Artwork courtesy of Ukraine Armlifting Federation.


With an open invitation "to all persons interested," the contest has a clear set of objectives that reflect the scope and standard established for this competition (quoted from the press release):

- revealing of the strongest athletes in Ukraine, Europe and in the world;
- fulfillment of grade standards;
- fixing of new records of Europe and the world;
- promotion of weight-lifting kinds of sport among people of all ages;
- promotion of healthy way of life.

The events are the Rolling Thunder, CoC Silver Bullet Hold and Apollon's Axle Double-Overhand Deadlift, with multiple categories for both men and women. The entry deadline is September 10 and the entry fee is US$50.
For full details and to sign up, please contact Vyacheslav Gorbunov.

###

The IronMind Forum: discuss this article, talk strength, get help with your training.

You can also follow IronMind on Twitter.