26th Annual White Castle Armwrestling Championships: Bronx Week
On June 20, as part of the Bronx Week Food and Arts Festival, some of the strongest arms around will be at the table, for the 26th Annual White Castle Armwrestling Championships.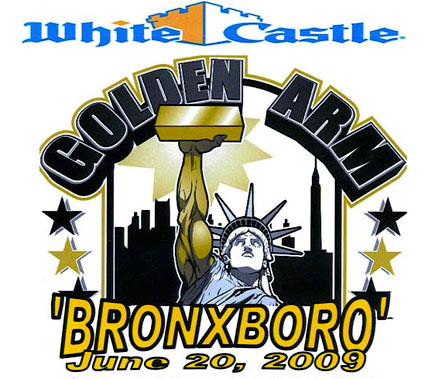 IronMind® | Artwork courtesy of Gene Camp/New York Arm Wrestling Association.

Gene Camp, founder and president of the New York Arm Wrestling Association, said, "The White Castle Bronxboro Arm Wrestling Championships reflects a home-grown, captive, cheering audience and free fun-filled day for everyone." Camp continued, "We are excited about the opportunity to participate in the Bronx Week festivities and the 100th anniversary of the Grand Concourse. This gives us an opportunity to crown the Bronx Strongest Arm at a prestigious and unique festival atmosphere and a wonderful opportunity to showcase the first event of the 2009 White Castle multi-event New York Golden Arm Series."

"The 'Bronx Strongest Arm' male and female MVPs will be crowned and 1st, 2nd and 3rd place award winners will qualify for the Empire State Golden Arm Tournament of Champions to be held at The Port Authority Bus Terminal on November 12." Sponsored by White Castle, "the NY 'Golden Arm' Series consists of eight preliminary championships, one event in each of the five NYC Boroughs, two on Long Island and the NY State Final.

"Contestants must be at least 16 years old and if under 18; have a parent or guardian signed approval. There are no residency requirements."

For full details, please visit the NYAWA website.