25th Reunion of the Association of Oldetime Barbell & Strongmen
If you wanted to see the greatest collection of iron game stars likely to be found in one place in the world, you had to be at the 25th Reunion of the Association of Oldetime Barbell & Strongmen (AOBS) in Newark, New Jersey on Saturday, June 7.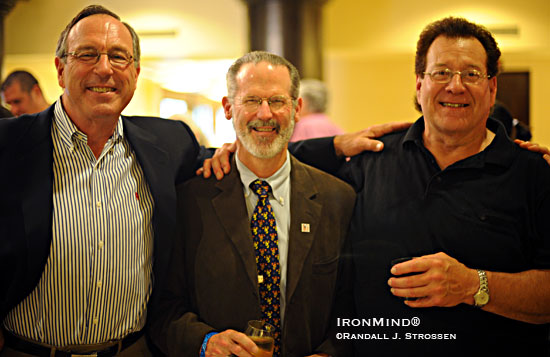 Three huge names from the U.S. weightlifting world in the 1970s - Bruce Wilhelm (left), Jim Schmitz (center), and Ken Patera (right) - were among the notables attending Saturday's AOBS dinner. Jim Schmitz coached both of these top supers and when asked for his favorite Ken Patera story, this is what Jim told IronMind®: "One day at the Sports Palace, a guy was squatting and he was up to 405, and Ken asked if he could work in. The guy said, 'Sure,' and Ken walked over and pressed the bar for five reps." IronMind® | Randall J. Strossen photo.


"Everyone here used to read Strength & Health," Jim Schmitz told IronMind®'s Randall Strossen - in a typical quick-hitting Jim Schmitz one-liner that was much more true than not. Not just the readers, though, these were the headliners - the top names from the bodybuilding and the lifting world - and as they have been doing for a quarter of century, once again, everyone was gathered for the camaraderie that defines this annual event.

Surrounding the actual dinner were seminars featuring such speakers as Tommy Kono, Clyde Emerich, Mighty Joe Rollino, and Tom Lincir and, of course, the signature after-dinner entertainment by the likes of Slim "The Hammerman" Farman. And speaking of Slim, one of his top understudies, Pat Povilaitis, was also on the main card, doing a number of things that fully merited the warning, Don't try this at home, kids!

Hats off to Artie Drechsler for putting on a tremendous event and a fitting salute to AOBS founder Vic Boff. For more information on the AOBS, please check the AOBS official website.