(>213) + (>263) = 3 World Records
Weightlifting fans and everyone who just plain likes strength is waiting to see if Iranian star Hossein Rezazadeh gives a big lesson in weightlifting math at the upcoming world championships.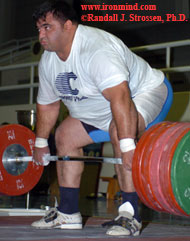 Hossein Rezazadeh starts a 240-kg clean and jerk on its upward journey in the training hall at the 2005 Asian Weightlifting Championships (Dubai, UAE). IronMind® | Randall J. Strossen, Ph.D. photo.
Lifting next month in Qatar, two-time Olympic weightlifting champion Hossein Rezazadeh seems poised to break all three world records in the super heavyweight class - records that he knows very well, since all three are his.

Although Rezazadeh "only" snatched 200 kg and cleaned and jerked 260 kg at last month's Asian Weightlifting Championships, he appeared to be lifting well within his limits, and he told IronMind® to watch for big lifts from him at the upcoming Worlds.

Rezazadeh had snatched 205 kg and cleaned and jerked 260 kg in training as he prepared for the recent Asian Weightlifitng Championships, and his clean and jerk was "very, very strong," according to a very knowledgeable source, so with his peak still several weeks away, Hossein Rezazadeh's current world records might be nearing the end of their reign.