2018 California's Strongest Man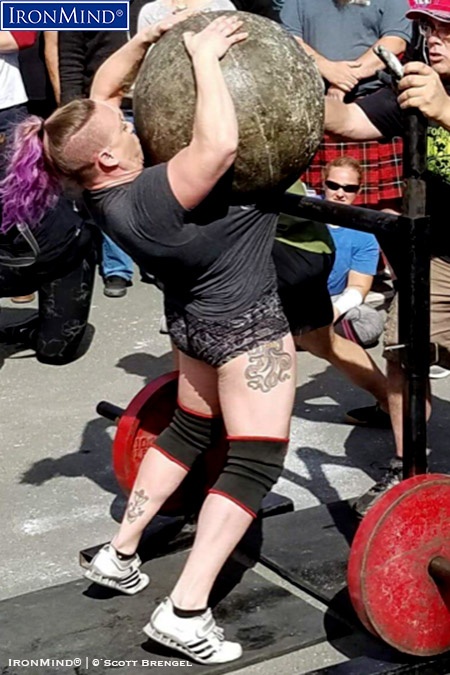 Liefia Ingalls picked up her fourth title and broke a world record at the 2018 California's Strongest Man contest.


California's Strongest Man 2018
by Francis Brebner
President, International Highland Games Federation (IHGF)

California's Strongest Man 2018, contested this past weekend at Huntington Beach, California, was as exciting as ever. The non-stop, action-packed event, hosted by East Coast West Coast Strength Speed Conditioning's coach and veteran pro strongman Scott Brengel, ran like clockwork. Over 50 athletes, from as far as New York, Washington DC, and Canada, registered to compete in the four categories. Liefia Ingalls won her fourth California's Strongest Woman title in the women's division and set a new world record lifting a 332-lb. Atlas Stone. Nathan Goltry and Chris Burke took the men's divisions.

The heavyweight men's class was a dominant victory for Nathan Goltry, who won 3 of 5 events and sealed the deal in the final event by lifting five Atlas stones, ranging in weight from 280 to 400 lb. onto to a nearly 5-foot platform, taking the title of California's Strongest Man 2018.
   
In the lightweight class, Chris Burke put on a clinic after taking a year off from competition. Burke claimed his third title and is looking to turn pro in 2018. The lightweight field included top-ranked competitors Jesse Nelson, Tom Yannuzzi, and Ty Roberts who finished second, third and fourth respectively, with Nelson and Yannuzzi separated only by one-half point.
   
The woman's category was quite the spectacle, won by four-time California's Strongest Woman Liefia Ingalls, who began strongman training only four years ago under the watchful eye of Coach Brengel. In the lightweight women's class, Emily Elliot grabbed her second straight title.
   
This was the 16th anniversary of the longest running strongman show on the West Coast and the tenth year hosting the contest next to the ocean in Huntington Beach, thanks to East West Strength's Brengel and teammates Cameron Gardner, Sean Demarinis, Casey Garrison, and Ashley Crawford.
   
Final results top three:
   
Men's Heavyweight
1. Nathan Goltry – 87
2. Kyle Gerrans – 74
3. Jose Baez – 72.5
   
Men's Lightweight
1. Chris Burke – 83
2. Jesse Nelson – 75
3. Tom Yannuzzi – 74.5
   
Women's Heavyweight
1. Liefia Ingalls – 60
2. Kathy Sheets – 50
3. Amra Dempsey – 43.5
   
Women's Lightweight
1. Emily Elliot – 43.5
2. Edna Ferrer Castaneda – 32.5
3. Sherri Fontes – 27.5

                                                ###



You can also follow IronMind on Twitter, Instagram and on Facebook.                       



Want to talk grip, strongman, weightlifting . . . everything strength? Visit the IronMind Forum.