2017 Labor Day Sale at IronMind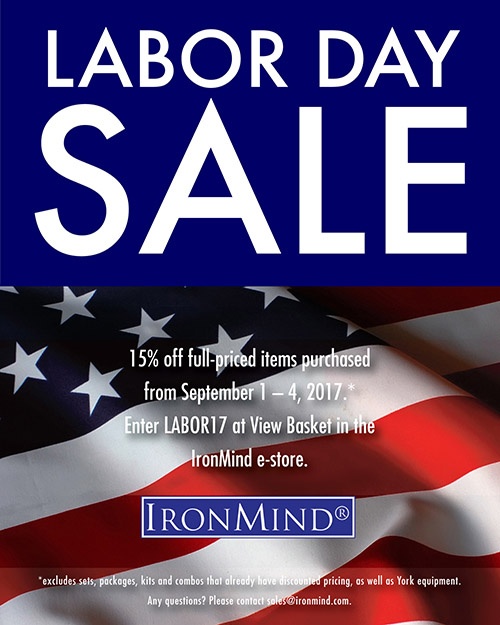 Training and recovery—one's not much good without the other—so in between resting up this Labor Day weekend, slip in some solid training, and stock up on your favorites from IronMind while enjoying our sale prices, too.

Made in America and used worldwide, IronMind has been synonymous with the top of the strength world for over 25 years, as we combine artisanal designs and quality with industrial strength.

Captains of Crush grippers, MILO, Just Protein, Rolling Thunder, Apollon's Axle, Vulcan Racks, ALight, Draft Horse Pulling Harness, Strong-Enough lifting straps, Buffalo bar, Tough-as-Nails Sandbags—icons in the strength world and fully ready to help you pile on the progress.

And if you need help deciding what's best for you, please feel free to email us or give us a call (+1 530 272 3579, extension 3#) and we'll be happy to help.

 15% off full-priced items purchased from September 1–4, 2017.* Use keycode LABOR17 at View Basket in the IronMind e-store.


*excludes sets, packages, kits and combos that already have discounted pricing, as well as York equipment.

                                                        ###



You can also follow IronMind on Twitter, Instagram and on Facebook.                        



Want to talk grip, strongman, weightlifting . . . everything strength? Visit the IronMind Forum.