2016 McPherson Highland Games: Randolf Going to Norway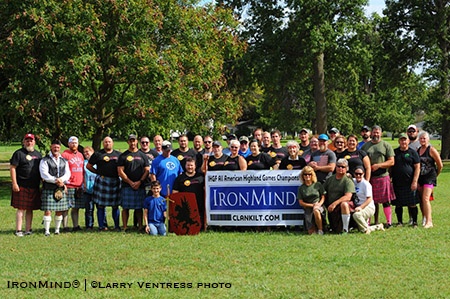 The 2016 McPherson Highland Games hosted the HASA/IHGF All-American Highland Games and the big title came down to the last event, with Gary Randolf edging Skylar Arneson by one-half point.




Gary Randolf Edges Skylar Arneson at the IHGF All-American Championships
by Francis Brebner
President
International Federation of Highland Games (IHGF)

 
The 2016 McPherson Highland Games in McPherson, Kansas, this past weekend had a few scattered showers but that did not dampen the spirits of the athletes, who gave their all in their quest for the HASA/IHGF All-American Highland Games Championships title. 

The athletes had competed in a qualifying series to get to the McPherson Games, which was hosting the IHGF All-American Championships, 2 athletes in a series of five games for a total of 10 athletes in all. One heavy, Dan Tennison, who is the number one ranked amateur, severely slashed the palm of his hand while at work and had to withdraw from the championships, leaving a field of 9. The lineup included: Ryan Huddleston, Eddie Johnson, Andrew Heaton, Gary Randolf, Skylar Arneson, Jon Hereth, Scott Hutchison, Scott Chisholm, and Tomas Lambotte.
 
A riveting competition from start to finish, the outcome was in question down to the last event, with Randolf taking the overall win from Arneson by half a point. Randolf will go forward to the 2017 IHGF World Amateur Highland Games Championships in Fefor, Norway.

The 22-lb. Braemar stone was dominated by Arneson, who delivered a clutch of top throws with a best putt of 38' 9", followed by Hutchison in second at 37' 3" and Chisholm close behind at 37' 1".

In the 16-lb. open stone, Randolf and Arneson went head to head with a fine series of throws, with Randolf this time coming up trumps with a class putt of 52' 9" for the win, with Arneson right behind at 52' 7" and Hutchison trailing in third at 48' 9".
                                                                                                                                                           
In the 56-lb. weight for distance, Arneson produced the winning throw of 37' 6", with Randolf in second with a fair throw of 36' 10" and Heaton in third with 36' 7". Surprisingly Hutchison, who is known to throw in excess of 40', could not find his groove and settled for seventh place at 34' 7".
 
The 28-lb. weight for distance got underway with Arneson, who had improved immensely from last year and was throwing bombs around 80', fouling two times, which left him with a final pressure throw, and he cautiously produced 70' 6", good enough for fourth place. Hutchison redeemed himself with 74' 6" for the win, but you could see that he was still a little off his usual explosive form. Second place was Randolf at 72' 11" and third Hereth at 72'.

The 22-lb. hammer was taken by Randolf, who had a winning throw of 102' 11". Arneson was in second at 99' 4" and Hutchison in third at 99'.
 
The 16-lb. hammer was Randolf's second victory in the hammers, but he had to work hard for the win over Johnson, also giving his all, with the lead changing every round. Randolf finally prevailed with a throw of 124' 4" to Johnson's 123' 6". Arneson stood on third at 99' 2".

The 56-lb. weight over bar was a skirmish between Lambotte and Arneson, who tied at 15', with Hutchinson in third on 14'.

The caber, 18' and 135-lb., was a challenge, with Hutchison pulling the best on degrees for the win with 80, Heaton second with 75, and Randolf third with 65.
 
Randolf was the new IHGF All-American champion, winning by a half a point. Randolf credited his coaching from Ryan Vierra, which "has been invaluable. I could not have done it without his guidance."
 
The IHGF would like to thank the McPherson Highland Games for hosting the All-American Championships, and specifically, the Games' athletic directors Dave and Gunner Glasgow and Larry and Terri Ventress, who made it all possible.
 
Next year the International Highland Games Federation (IHGF), along with the Heart of America Scottish Athletics (HASA), are looking to promote the women's class as well as working on more qualifying games for next year's All-American Highland Games Championships.
 
                                       ###



You can also follow IronMind on Twitter and on Facebook.                        



Want to talk grip, strongman, weightlifting . . . everything strength? Visit the IronMind Forum.