2014 World's Strongest Man Qualifiers on CBS Sports Tonight
With only the two competitors from each six-man group guaranteed to advance to the finals in the World's Strongest Man contest, the competition will be fierce and tonight, on CBS Sports—the focus is on Group 4, featuring none other than Zydrunas Savickas.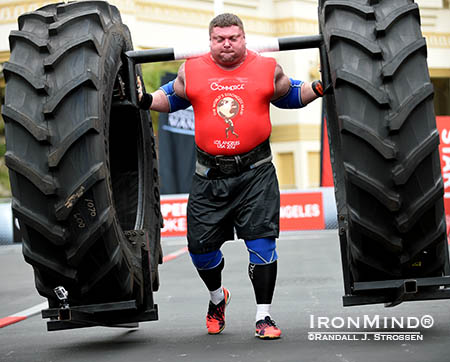 Zydrunas Savickas, widely considered the best strongman of all time, figures prominently in the World's Strongest Man Group 4 qualifiers—broadcast tonight on CBS Sports. IronMind® | Randall J. Strossen photo


In addition to Zydrunas Savickas (Lithuania), Group 4 includes Nick Best (USA), Mark Felix (UK), Eben Le Roux (Australia), Laurence Shahlaei (UK) and Bjorn Andre Solvang (Norway).


Follow this link to the official trailer, setting the stage for what you will see on CBS Sports tonight at 9:30 PM (Eastern Time).


###



Want to talk strength? Join the IronMind Forum.

You can also follow IronMind on Twitter and on Facebook.