2014 Webster World Highland Games Heavy Events Championships
"On Aug. 23rd-24th the long established World Highland Games Heavy Events Championships are returning to Scotland as one of the high quality sports events celebrating Scotland's Homecoming Year," Steve Conway reported to IronMind, offering details on the multiple dimensions that will distinguish this competition.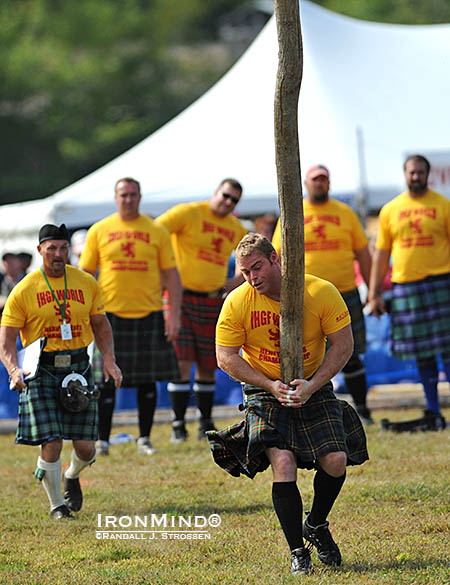 Dan McKim won his first title in the 2011 edition of these Highland Games World Championships (at Loon Mountain), and comes into the 2014 contest as the defending champion, fresh off multiple world record performances. IronMind® | Randall J. Strossen photo


"This Championship has been held all over the World since 1980 and it's exciting to see it returning to Scotland. The location this year is Pittencrieff Park Dunfermline, a town in what has long been called "the Kingdom of Fife".

"Pittencreff Park is near the Abbey where the great Scottish King, Malcolm Canmore (1031-1093) is buried. It is said that Malcolm organized the first Braemar Highland Gathering when he needed a courier so he arranged a hill race up Craig Choinnich, on the Braes of Mar. The first to the top of the hill was given the coveted post.

"It's in this tradition that the World Championships are set to be held and after two days of competition we will recognize the 2014 Champion.

"As is fitting for a Championship such as this, there is a very strong International line-up:

• Daniel McKim – USA, defending World Champion
• Matt Vincent – USA, 2012 World Champion
• Scott Rider – England, current British and Scottish Champion
• Sebastian Wenta – Poland, former World's Strongest Man competitor
• Matt Doherty – Canada, current Canadian Champion
• Burger Lambrechts – South Africa, former Commonwealth Games Gold Medalist
• Heisi Geirmundssson, Iceland
• Sinclair Patience – Scotland
• Lorne Colthart – Scotland
• Jimmy Van de Walle – Belgium

"This is a very strong group of some of the best athletes in Highland Games. This year Dan Mckim has already broken the World records in both the 16 and 22 lb. hammers, as well as coming close to breaking the 28 lb. weight for distance and the word is that Burger Lambrechts has unofficially thrown past the record in putting the stone. Scott Rider is currently representing Britain in the Commonwealth Games in the shot putt.

"There will be a full Highland Games program including a traditional stone lifting competition and a European Ladies Highlander Championships. British representatives Shaunach Brown and Kirsty Yates are also competing in the Commonwealth Games.

"One last bit of information about this event, it will be free of charge to the public!" said Conway.

###



Want to talk strength? Join the IronMind Forum.

You can also follow IronMind on Twitter and on Facebook.