2014 US World Championships
"The 2014 US World Championships were held in Pyroll Areena at Pyhtää, Finland and introduced for the first time classes also to women -60 kg, women -70 kg and men -80 kg along with the women´s open class and men -105 kg [categories]," Jyrki Rantanen reported to IronMind.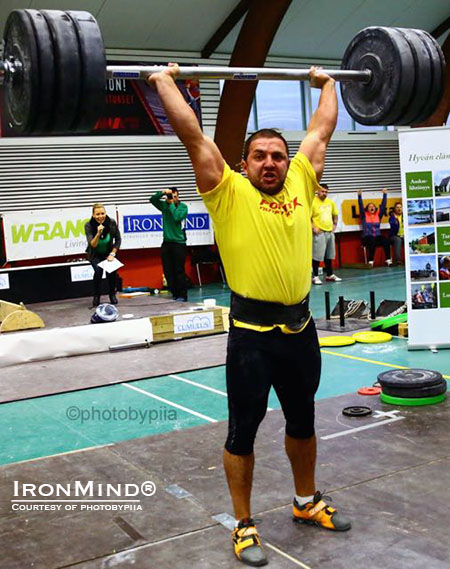 Competing in the -105 kg category at the 2014 United Strongmen World Championships, Volodymyr Reksha (Ukraine) tied the world record 160-kg on the Apollon's Axle. IronMind® | Courtesy of photobypiia.com


"Overall, the result levels in all classes was very high and we saw several world record level performances during the 2-day competition.

"I'm also very happy that this 4th US World Championships happening was the very best of them so far - we had an excellent, exciting weekend over here :)

"The first -60 kg World Champion is Sanna Savolainen from Finland, who proved her weightlifting background in the Axle lift, while she overheaded the same 75 kg as the women in the next bigger class.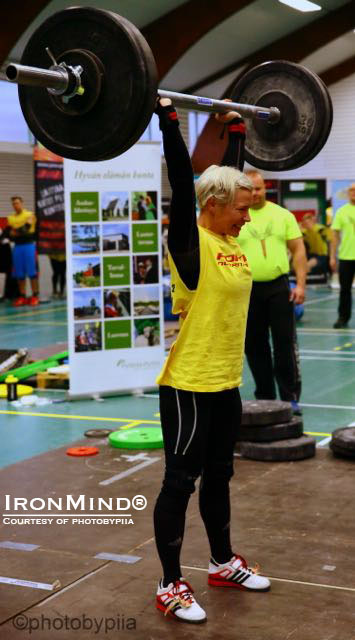 Under 60-kg competitor Sanna Savolainen hit 75 kg on the Apollon's Axle. IronMind® | Courtesy of photobypiia.com


"In -70 kg Norway's Strongest Woman Janne Grandalen was on fire and did solid performances over the both days ending up as the first winner of this, another new class, in US World Championships.

"Norway took gold also in men's -80 kg as Marius Halvorsen had won the competition already before the last event, which he did not attempt due a small injury.

"The open women's competition was dominated by Olga Liacshuk from Ukraine. Ukraine also won the men's 105 kg competition as Volomydyr Reksha edged out England's great showman Will Baggott by only 1.5 points.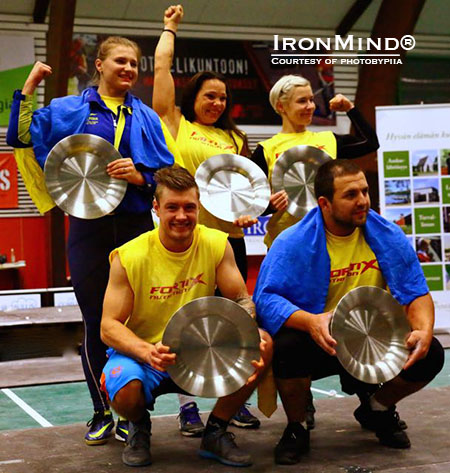 Here are the winners at the 2014 United Strongmen World Championships. IronMind® | Courtesy of photobypiia.com


"Here's top three medalists from each class:

US WORLD CHAMPIONSHIPS 2014

WOMEN
-60kg
1. Sanna Savolainen, Finland
2. Jenny Warner, England
3. Terhi Sievers, Finland

-70kg
1. Janne Grandalen, Norway
2. Jennifer Todd, England
3. Eveliina Rosenström, Finland

Open
1. Olga Liaschuk, Ukraine
2. Lidija Hunko, Ukraine
3. Jennifer Tibbenham, USA


MEN
-80kg
1. Marius Halvorsen, Norway
2. Raimo Pikkuhookana, Finland
3. Oleksandr Stashenko, Ukraine

-105kg
1. Volodymyr Reksha, Ukraine
2. Will Baggott, England
3. Oleksiy Novikov, Ukraine

"Next year the World Championships will be held at Aulanko Areena/Spa hotel in Hämeenlinna, Finland, August 28–30, and it will be first World Championships under FINADA surveillance - more about that coming out soon," said Rantanen.

###



Want to talk strength? Join the IronMind Forum.

You can also follow IronMind on Twitter and on Facebook.