2014 SCL Season Opens in Martinique
It's the first of 16 stages set for their 2014 season as the MHP Strongman Champions League opens this coming weekend on Martinique, in the Caribbean.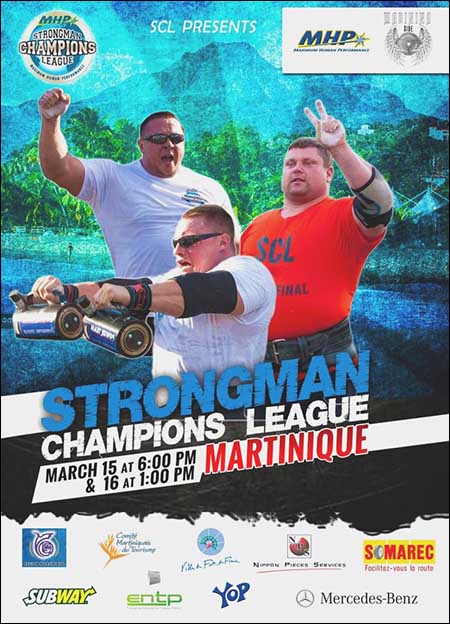 The MHP Strongman Champions League kicks off its 2014 season in Martinique this coming weekend. IronMind® | Image courtesy of SCL


"We will have a bit smaller field than normal," Marcel Mostert told IronMind today, "because some of the top athletes are preparing for the World's Strongest Man 2014, a week later. Still, it will be an excellent show for sure on this beautiful island, where we had 15.000 spectators in 2012 during the SCL Finals there.

"In a field with Krzysztof Radzikowski, Ervin Katona, Gregor Stegnar, Oyvind Rein (from Norway), Didzis Zarins, Etienne Smit , Lauri Nami, Gerald Gschiel (from Austria) and a few local Martinique athletes, it will still be a hard fight to crown the champion of the first stage from the MHP Strongman Champions League. Didzis Zarins is replacing Dainis Zageris from Latvia, because Dainis ripped off his bicep last week.

Events
• Truck Pull
• Farmer's walk
• Tire Flip
• Deadlift (for reps)
• Log Lift
• Forward Hold
• Power stairs.

"It will be a fantastic event with a great location to kick of the MHP strongman Champions League season 2014.

"Also, just released today on our website, is the highlights trailer 2013. You can check it on youtube as well, by clicking this link" said Mostert.


###



Want to talk strength? Join the IronMind Forum.

You can also follow IronMind on Twitter and on Facebook.