2014 Met-Rx Odd Haugen Strength Classic: NorCal
The 2014 NorCal FitExpo is hosting the signature Odd Haugen Strength Classic on July 12 and 13 in the San Jose Convention Center.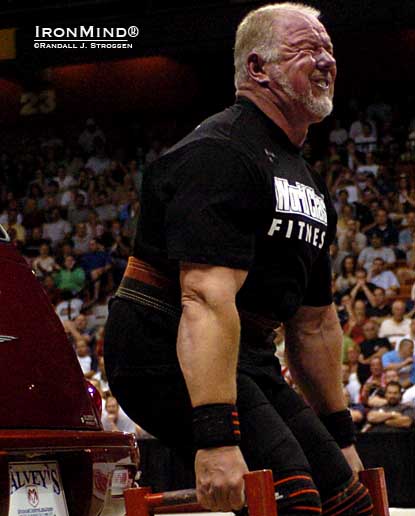 Odd Haugen shown on the Car Deadlift at the 2006 Mohegan Sun. Haugen, an able strongman competitor and huge fight fan, also has a ferocious grip, and he has been a pioneer in recognizing and promoting grip contests on a par with other strength events. No wonder that the Odd Haugen Strength Classic showcases strongman, mas wrestling and grip strength—all under one roof. IronMind® | Randall J. Strossen photo


Here is the official press release, describing the events:

"Saturday, July 12th, is the 3rd Annual Odd Haugen Strongman Challenge, which is a NAS Platinum Plus Level contest in Lightweight (231 lb.) and Heavyweight (+231 lb.) weight categories OPEN to all qualified NAS member athletes. The top three athletes in each weight class will qualify for the 2014 NAS National Championship and each champion will receive ASC Pro Card. Lightweight champion will also receive a direct invite (entry fee waived) and travel reimbursements (up to $300) to the 2014 Olympia Pro Strongman Challenge in Las Vegas; and the heavyweight champion will receive a direct invite (entry fee waived) to the 2015 All American Strongman Challenge including travel reimbursements (up to $300) and hotel accommodations for two nights. Previous heavyweight champions are Robert "OB" Oberst and Dimitar Savatinov.

Schedule and Rules
Online Entry Form

Sunday July 13, 2014 is the IronMind® Record Breaker Challenge, which is an open grip challenge (men and women) to set or break World Records, American Records or just personal bests in each of three (3) events: (1) IronMind Rolling Thunder® Deadlift; (2) Double Overhand Deadlift with IronMind Apollon's Axle™; and (3) Captains of Crush® Silver Bullet Hold. Top athletes will get invites to Armlifting World Championship to be held in September.

Schedule and Rules
Online Entry Form


Sunday July 13th North American MAS Wrestling Continental Championship
THIS IS A WORLD CHAMPIONSHIP QUALIFiER and all US athletes must be members of MAS Wrestling USA: MEN's weight categories are -60 kg, 70 kg, 80 kg, 90 kg,
105 kg, 125 kg, and +125kg; WOMEN's weight categories are -55 kg, 65 kg, 75 kg, and +75kg. Weight categories with 2 or less athletes merged with next higher weight category; weight categories with 3-5 athletes conducted in Round Robin format; and weight categories with 6 or more athletes conducted in Double Elimination A-B format. 2014 World Championship will be held November 28 December 1, 2014 in Yakutsk, Republic of Sakha, Russia. http://maswrestlingusa.com/membership-form

Regulations
Online Entry Form

###



Want to talk strength? Join the IronMind Forum.

You can also follow IronMind on and on Facebook.