2014 Lightweight Finnish Strongman Championships
"What is maybe the best background to jump to strongman/woman sport?," you might wonder. 

"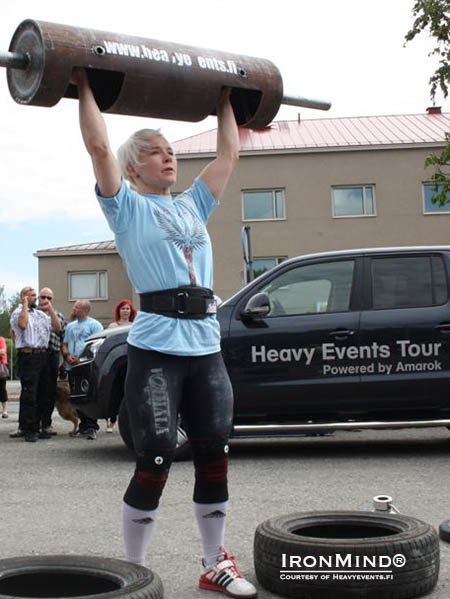 "In the photo, Sanna Savolainen reps out log lift, multiplying the result that the others did." IronMind® | Photo courtesy of Heavyevents.fi


"I would say weightlifting is high on that list—at least based on, what I saw during the weekend while we had the Finnish Championships for lightweight athletes at Saparo-Festival in Huittinen (Finland)," said promoter Jyrki Rantanen.

"Along with introducing the new -60kg class for women, we had also -70kg for them and the men battled for -80kg class.


"There was a huge amount of great performances in all classes, and best of all was Sanna Savolainen, who is silver medalist on Finnish nationals for weightlifting (-63kg class); she dominated the new class of -60kg strong woman by winning 5 out of 6 events and was also second in mas wrestling.

"In -70kg class, the competition was more stable and the experienced sisters Leena Nurminen and Jaana Tanner held the newcomers behind their backs and took the top spots. In -80kg, Ville Majuri was the strongest in a very tight competition," said Rantanen.

###

Want to talk strength? Join the IronMind Forum.

You can also follow IronMind on Twitter and on Facebook.