2014 IronMind Catalog is Here
Time was when IronMind merely meant stronger than dirt, but somewhere along the line, IronMind products took on a new look—the beast had married a beauty and the offspring were something to behold.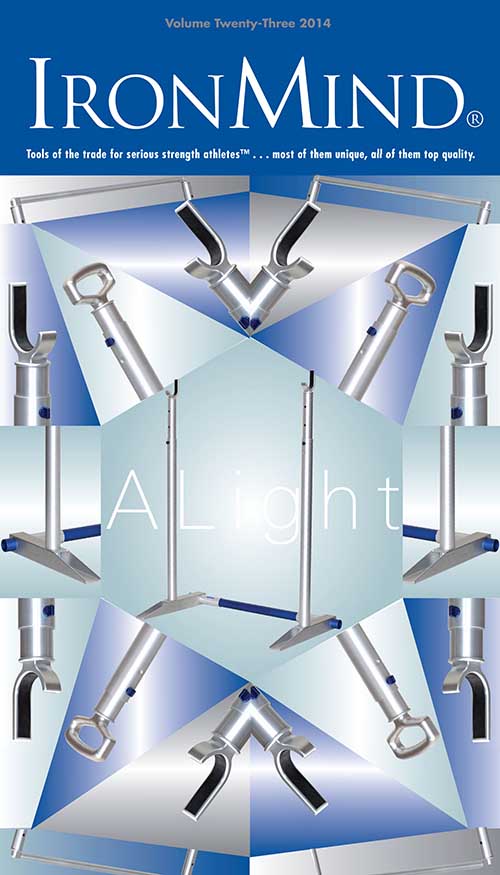 ALight, IronMind's revolutionary squat-dip-chin center is featured on the cover of the 2014 IronMind catalog.  Drop-dead gorgeous, all-aluminum and weighing about the same as a set of golf clubs, this ultra-portable system with instantaneous switchouts can handle 700-lb. squats with ease; and if you're a 300-lb. guy looking for a place to do strict chins, well, that's no problem for ALight either.  Image courtesy of IronMind


From SUPER SQUATS and Captains of Crush grippers to other household names in the strength world, IronMind has been offering "Tools of the Trade for Serious Strength Athletes" since 1988—you see our products used in the World's Strongest Man contest, as well as in gyms, garages and backyards worldwide.

A new catalog is on its way to our current customers and please visit our e-store if you can't wait to see your familiar friends and meet the new additions for this year.  And if you're not yet an IronMind customer and would like to request a catalog, please follow this link.

                                                                       ###



Want to talk strength?  Join the IronMind Forum.

You can also follow IronMind on Twitter and on Facebook.