2013 Visegrip Viking Challenge
The LA FitExpo will once again be the site of what's likely to be the year's top grip event as Odd Haugen's Visegrip Viking Challenge will sic top grip stars from around the world on three of the most prestigious world records in the field of grip strength: the Apollon's Axle Double Overhand Deadlift, the Rolling Thunder and the CoC Silver Bullet Hold.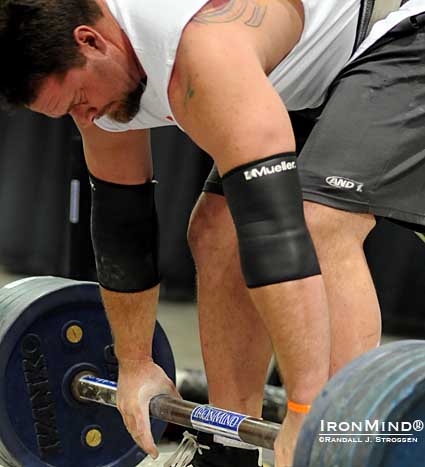 When 2012 America's Strongest Man winner Mike Burke latches onto the IronMind Apollon's Axle at the LA FitExpo, expect to see a huge result—he is considered to be a favorite to break the current world record. IronMind® | Randall J. Strossen photo.


"So far we have an all star cast of strength athletes for the Visegrip Viking Challenge . . . Mark Felix, Andrew Durniat, Michael Burke, Jerry Pritchard, Chad Woodall, David Ostlund, Joel Dircks, John Machnik, Jon Eklund, and yours truly," Odd Haugen told IronMind. "I have heard from many more, but have not yet received the entry forms.

The contest begins with the Apollon's Axle Double Overhand Deadlift, and Haugen told IronMind he does not expect the current world record to be standing when this event is finished.
"This event is the reason Mike Burke is coming," Haugen said, and if Mike doesn't want to add his name to the record book, consider Mark Felix, Chad Woodall and Odd Haugen, for example, and as Haugen said, "You can never count out Andrew Durniat."

Mark Felix has reigned supreme on the Rolling Thunder for years and has pushed the current world record to a level that even when considering training lifts, has not been approached by anyone but Laine Snook. Will Felix break his own world record? Will someone serve up a major surprise?

With his huge hands all but swallowing a Captains of Crush No. 3 gripper, Mark Felix set the inaugural world record on the CoC Silver Bullet Hold when the event debuted at the 2012 LA FitExpo and you can bet he'd like to reclaim it from Alexey Tyukalov.
Follow this link for full details, including an entry form.

###



Visit the IronMind Forum: talk strength, discuss this story. Strongman, grip, Highland Games, Olympic lifting, stones and more.

You can also follow IronMind on Twitter.