2013 Under 105-kg Strongman World Championships
"On the 28th of July, in Vyshgorod, Ukraine, SCL together with Giant's Live and the Ukrainian Federation of Strength Athletes (UFSA) are providing the World Championships for athletes under 105 kg," Olena Kiba told IronMind today.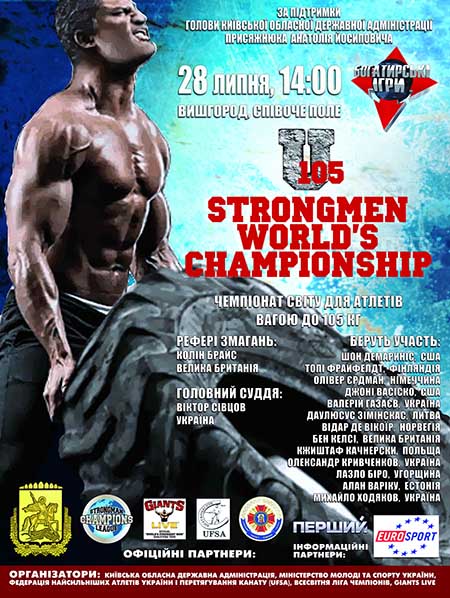 SCL co-founder Ilkka Kinnunen was a pioneer in building up 105-kg strongman, and this weekend SCL is partnering with Giant's Live and UFSA for the 2013 under 105-kg strongman world championships. IronMind® | Artwork courtesy of UFSA.


Saying, "the best Athletes from 10 countries are taking part," Ms. Kiba provided the official start list:

1. Sean Demarinis USA
2. Johnny Wascizco USA
3. Krzysztof Kachnerski Poland
4. Topi Frifeldt Finland
5. Oliver Erdmann Germany
6. Oleksandr Krivchenkov Ukraine (Bronze 2012))
7. Valeriy Gasaev Ukraine
8. Daulusus Ziminskas Lithuania
9. Vidar Dae Vikoyr Norwegian (WC 2012)
10. Ben Kelsey UK
11. Alan Variku Estonia
12. László Bíró Hungary
13. Mikhail Hodyakov Ukraine

Referee: Colin Bryce
### 



The IronMind Forum: discuss this article, talk strength, get help with your training.

You can also follow IronMind on Twitter and on Facebook.