2013 StrongFit World Championships
"StrongFit staged its 2013 World Championships at the Australian Formula One Grand Prix® with four days of tough competition over the four days of the motorsport festival," Bill Lyndon reported to IronMind.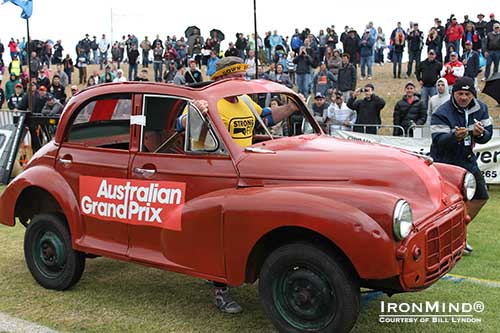 Warrick Brant on the Car Walk, an appropriate event especially since the StrongFit competition was run alongside the Australian Formula One Grand Prix®. Four divisions of Bill Lyndon's StrongFit Championships "were contested over this period with a StrongFit Champion crowned each day," Bill Lyndon told IronMind. IronMind | Photo courtesy of Bill Lyndon.




"Sunday had 9 tough heavyweights fight it out for the first StrongFit Championships with some outstanding performances from all the athletes, notably Gerhard Van Staden of South Africa with the 410 kg Car Walk in which he raced it up the 20 meter track in 11.16 seconds to earn him the brute strength award and possibly a speeding ticket," Lyndon said.
"It turned into a battle royal right up to the last event between Warrick Brant and Gerhard Van Staden in the Eureka Stones with Warrick needing to lift all five stones including the final 191 kg monster to match Gerhard's points. Once the dust had settled and the points tallied up both athletes where drawn on points but employing the same rules as WSM [World's Strongest Man] Warrick took the win with the most first places.

"The event was an outstanding success with great support from the massive crowds over the four-day motorsport extravaganza which had more than 300,000 spectators through the gates. StrongFit is already planning its return next year which will include fitness divisions in a made for TV event," said Lyndon.
Here are the official results for the top five, by class:
Open
1. Warrick Brant
2. Gerhard Van Staden
3. Ben Simpson
4. Jordan Steffens
5. Mike Jones

U105
1. Karlo Briski
2. Elias Arcondoulis
3. Jacob Rasmussen
4. Liam Orkinski
5. Aaron Scarborough

U90
1. Aaram Eghoran
2. Shane Jerman
3. Antony Cosentino
4. Darren Lang
5. Troy Munro

Open Women
1. Rachel Ogorman (tie)
1. Elena Rasmussen (tie)
3. Alii G Force
4. Cristy Hazelman
5. Denai Derecki

###

The IronMind Forum: discuss this article, talk strength, get help with your training.

You can also follow IronMind on Twitter.