2013 South Africa's Strongest Man Under 105 kg
Gerhard Van Staden, South African Representative of the newly formed Southern Hemisphere's Strongman Union, reported that the 2013 South Africa's Strongest Man Under 105 kg had outstanding performances from all the athletes.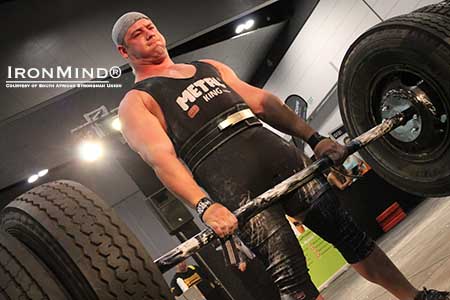 Willie White on his way to winning the recent under 105-kg South Africa's Strongest Man title. IronMind® | Image courtesy of South African Strongman Union


"The top three athletes will advance to Southern Hemisphere's Strongest Man (SHSM) under 105 kg in Australia in March of next year at the prestigious Australian Formula One Grand Prix in Melbourne," Bill Lyndon, founder and director of SHSM, told IronMind.

"Southern Hemisphere's Strongman Union is a new organization to support strength athletes from all of the Southern Hemisphere. This year's World's Strongest Man had the top three from SHSM. At next year's FitX/Giants Live Down Under, we will have our third year of the SHSM Open and our second installment of the under 105 SHSM at the Australian F1 in Melbourne the week later," Lyndon said.

Overall Places
1. Willie White
2. Frikkie Page
3. Pieter Snyman
4. Kreson Pillay
5. Glisson Schutters
6. Thembani Mthembu
7. David Bezuidenhout
8. Jan Greyvenstein
9. Shane Maree
10. Jan Van Bavel

The new website for all strength athletes in the Southern Hemisphere is under construction and will be fully active in the coming weeks.

#

Want to talk strength? Join the IronMind Forum.

You can also follow IronMind on Twitter and on Facebook.