2013 Queen of the Castle Start List
"27th April we are finding out, who will be the strongwoman champion in Scandinavia 2013 in our Queen of the Castle™ - Sponsored by Fitnesstukku competition," Jyrki Rantanten reported to IronMind.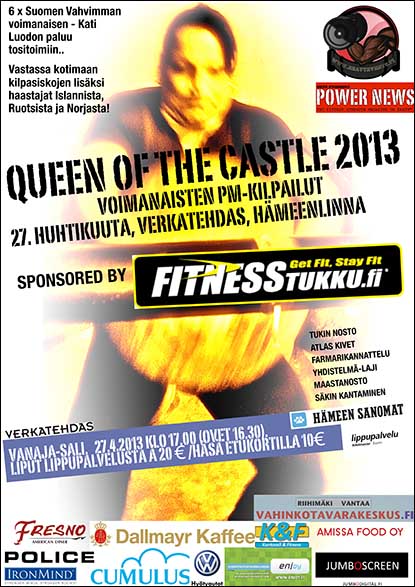 Set in a theater, the 2013 Queen of the Castle will crown the Scandinavian strongwoman champion. IronMind® | Image courtesy of United Strongman®.


Here´s the official starting list:

• Kikki Berli-Johnsen, Norway
• Lise Gangstad, Norway
• Anki Öberg, Sweden
• þóra þorsteinsdóttir, Iceland
• Rósa Birgisdóttir, Iceland
• Kati Luoto, Finland
• Alina Leisiö, Finland
• Annina Saine, Finland
• Jaana Tanner, Finland

"The competition will be something, what is never seen in strongman/women yet so far. A full competition inside of a theatre. The ladies will battle in 6 events including last woman standing log max, (special) deadlift for reps, atlas stones, medley, sack carry and farmers hold.

"The tickets are already on sale via Ticketmaster® Finland and more info about the event can be found from the Facebook events page.

"Overall the biggest wait is to see how 6-time Finland´s Strongest Woman Kati Luoto has recovered from her knee injury (2011) as this is the first time she in competition field since then.

"Also we will see some new faces from Norway and Iceland on our international field of competitors. We will also keep 1 spot open due a few top ladies have been injured and we leave the backdoor open incase some of them recovers in time for this competition," said Rantanen.


### 



The IronMind Forum: discuss this article, talk strength, get help with your training.

You can also follow IronMind on Twitter.