Not just for men and not even just for huge men, Norway's Strongest, organized by Kristiansand Strongman Team, featured "four different classes with nearly 40 competitors taking part in the happening," referee Jyrki Rantanen reported to IronMind.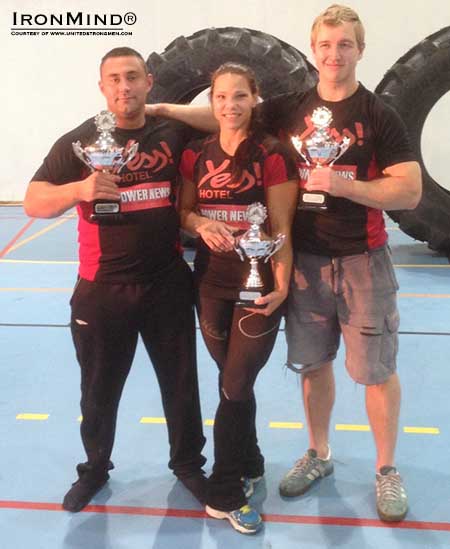 105-kg winner Bjornar Kvernstuen (left), women´s champion Janne Grandalen-Flo (middle) and -90kg champion Andreas Valand (right). IronMind® | ©www.unitedstrongmen.com


"In women´s under 70kg class, Janne Grandalen-Flo took her first national championships title with very dominating way as she won 5 events and placed 2nd in 6th one as the overall point silver medalist Lise Gangstad won the deadlift.

"Lightweight men had 3 classes: -80kg, - 90kg and -105kg and in all classes we witnessed very tough competition between many top athletes.

"In -80kg Marius Halvorssen edged out Lars Erik Grain by one point and took the spot to the World Championships in Arnold Sports Festival 2014," which is run by ASC.

"At -90kg class Andreas Valand dominated the class with 10 points difference before Tim Enersen and in -105kg class Bjornar Kvernstuen battled the victory before Jon Einar Haugland and Jorgen Skaug Aukland

"I had the honor to be of the referees and I have to say I´m impressed about the quality how this large competition was held," said Rantanen.

The full results are on Facebook: www.facebook.com/NorgesSterkeste

#

Want to talk strength? Join the IronMind Forum.

You can also follow IronMind on Twitter and on Facebook.