2013 New Hampshire Highland Games
"The New Hampshire Highland Games is proud to announce their line up for The Scottish Highland Games World Championships," Bill (aka Doc Rock) Crawford reported to IronMind.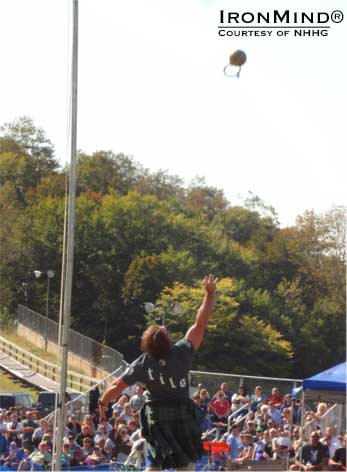 "Mike Zolkiewicz launches the 56 lb. weight into the thin mountain air at the New Hampshire Highland Games 2012." IronMind® | Courtesy of the NHHG


"The New Hampshire Highland Games will be held on September 20 - 22 and the athletic competition will be held on Saturday and Sunday the 21st and 22nd. The champion will be awarded The Webster Cup. The Webster Cup has all the champions inscribed upon it from each of the world championships that David Webster has held, from 1980 to the present. Somewhat like the Stanley Cup there will be only one cup that will be held in perpetuity to be awarded to the World Champion," said Dr. Crawford.

2013 New Hampshire Highland Games Start List
Daniel McKim - USA
Matt Vincent - USA
Mike Zolkiewicz - USA
Andy Vincent - USA
Jake Sullivan - USA
Sean Betz - USA
Rob Young - Canada
Matt Doherty - Canada
Craig Sinclair - Scotland
Hans Lolkema - Holland
Sebastian Wenta - Poland
Aaron Neighbour - Australia

#

Want to talk strength? Join the IronMind Forum.

You can also follow IronMind on Twitter and on Facebook.