2013 IronMind Summer Flyer
Looking to shake the summertime blues or maybe you're already seriously on track with with training and only need to keep things rolling: either way, the IronMind Summer Flyer is in the mail, loaded with the goodies to get you to your goal.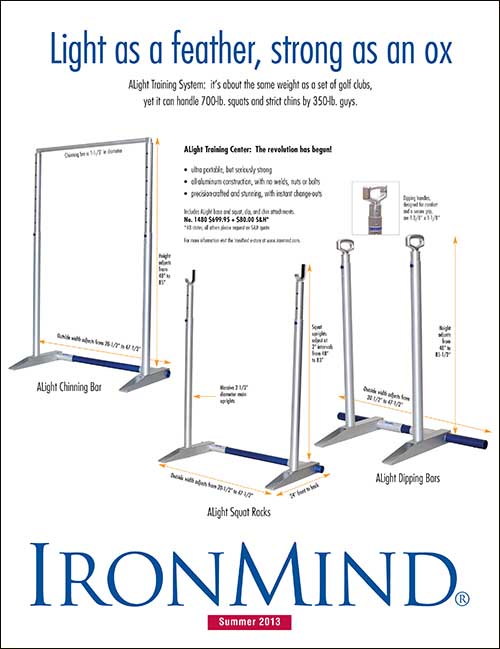 ALight—IronMind's revolutionary new system for squatting, chinning and dipping—is a fusion of art and function: beautifully crafted from aluminum, this system weighs about as much as a set of golf clubs, but has the strength you need for 700-lb. squats or strict chins by 350-lb. guys. ©IronMind Enterprises, Inc.


We've got everything you need to train at home or on the road; things that work just as well in a city center apartment as in a barn or on a beach—basic tools to help you squat, train your grip, get ready for the Olympics, the World's Strongest Man contest or maybe it's your first 90-kg power clean or 500-lb. deadlift or honest to goodness Captains of Crush No. 2 gripper close.

IronMind: Tools of the Trade for Serious Strength Athletes . . . so dive in, choose your weapons and have at it.

###



Visit the IronMind Forum: talk strength, discuss this story. Strongman, grip, Highland Games, Olympic lifting, stones and more.

You can also follow IronMind on Twitter and on Facebook.