2013 IHGF World Highland Games Strength Challenge
The 2013 IHGF World Highland Games Strength Challenge will present eight events with "a combination of half strongman and half Highland Games events," according to a press release sent to IronMind today.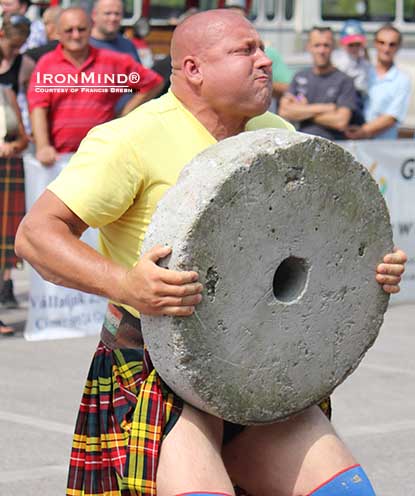 Adam Darusz (shown on the 130-kg mill stone), as part of the IHGF, is helping to advance the Highland Games heavy events and related strength competitions in his native Hungary and surrounding countries. Photo courtesy of Francis Brebner.



The competition is being held June 15–16, during an event called "Teresiana," in the city of Bjelovar, Croatia.

Croatia, Slovenia, Hungary, Georgia, Austria, France, Netherlands and Iceland will be represented, and the event is being promoted by András Ladányi, president of the Croatian Highland Games Federation, in affiliation with the IHGF.

According to the press release, "The newly appointed CEO of the IHGF Adam Daruzs said the event will be filmed for European TV. The sport is growing bigger in Hungary and with the TV exposure, this is having a big effect on other surrounding countries which is good for the sport and the athletes, which everyone is happy to see."



### 



The IronMind Forum: discuss this article, talk strength, get help with your training.

You can also follow IronMind on Twitter.