2013 IHGF World Championships: TV Schedule
The 2013 IHGF Professional World Highland Games Championships will begin airing on TV December 27th," Francis Brebner reported to IronMind today.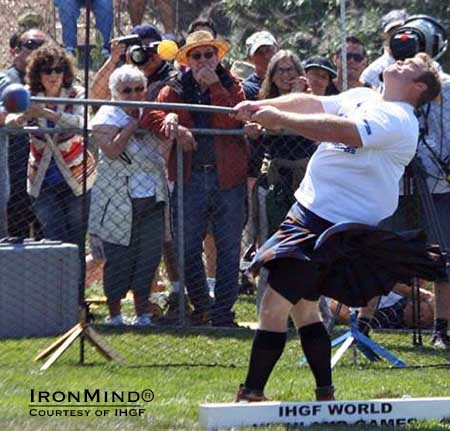 Dan McKim added another IHGF World Championships title to his collection this year. IronMind® | Photo courtesy of IHGF


This competition was held in Dana Point, California, so Brebner said that his initial focus has been on Southern California TV.

The show on December 27 will air at 11:30 p.m., said Brebner, and there are also TV shows on December 28 (1:00 p.m.), December 29 (7:00 p.m.) and December 30 (at 8:00 p.m.).

These shows will be aired on Cox Cable in Orange County, Channel 4 in San Diego, Charter Cable in Los Angeles County, Time Warner in Los Angeles and North Orange County as well as "our Palos Verdes and Santa Barbara stations," said Brebner.

"The 2013 IHGF World Championships will be made into four one and a half hour shows for TV, and will be later available to view on the web with a shortened version available later on DVD," Brebner said, noting that to the TV coverage already in place, he is in discussion for an expanded broadcast schedule that could "possibly go out to another 44-60 million households as well."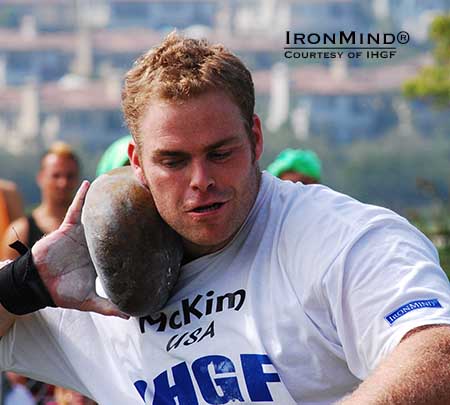 Dan McKim knocked off big wins in quick succession at Dana Point, Pleasanton and Loon Mountain—the 2013 IHGF world champion proved he is the man to beat if you want to say you're the best in the Highland Games heavy events. IronMind® | Photo courtesy of IHGF



###



Want to talk strength? Join the IronMind Forum.

You can also follow IronMind on Twitter and on Facebook.