2013 IHGF Amateur World Highland Games Championships
"The stage is set for IHGF World Highland Games Championships on June 22–23 in Fürstenwalde, Germany," Francis Brebner told IronMind today.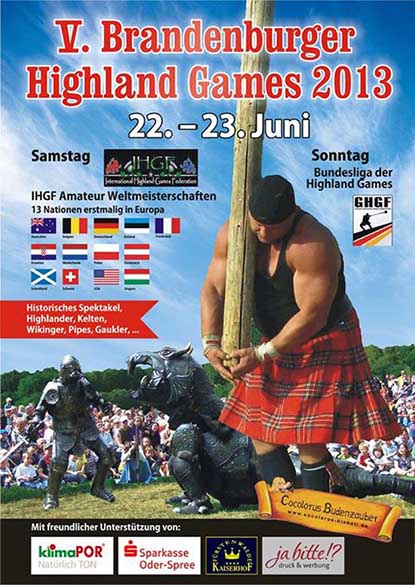 The winner of this year's IHGF Amateur World Highland Games Championships will earn his pro status and be invited to the 2014 IHGF Professional World Highland Games Championships in Dana Point, California. IronMind® | Image courtesy of IHGF


"The President of the GHGF, Hans Ditter Dorrow, said that he is very happy about this location being chosen as a location for this year's world championships, which will be filmed for European TV networks that will include a top lineup of amateur Highland Games athletes from around the world," said Brebner.

David Frey (Germany)
Markus Vortriede
 (Germany)
Daniel Dorow
 (Germany)
Daniel Stämpfli
 (Switzerland)
Martin Schiller
 (Austria)
Pieter Kast Bouma
 (Holland)
Jimmy van de Walle (Belgium)
Kyle Rendalls
 (Scotland)
Amine Amroun
 (France)
To be determined (Poland)
Moe Westmoreland
 (Australia)
Chad Ullom (USA)
Marian Katrusa (Croatia)
Attila Szabo (Hungary)
Robert Fazekas (Hungary)

"The winner of this year's IHGF Amateur World Championships will have earned their pro status and secured a place in next year's 2014 IHGF Pro World Highland games Championships which will be held at the California Celtic Classic in Dana Point," Brebner said.


 ### 



The IronMind Forum: discuss this article, talk strength, get help with your training.

You can also follow IronMind on Twitter.