2013 Fitnesstukku Power Week Results
United Strongmen's Fitnesstukku Power Week featured grip strength, strongman for women and 105-kg men, as well as a strongman–fitness competition, and Jyrki Rantanen sent IronMind a list of the highlights along with the official results.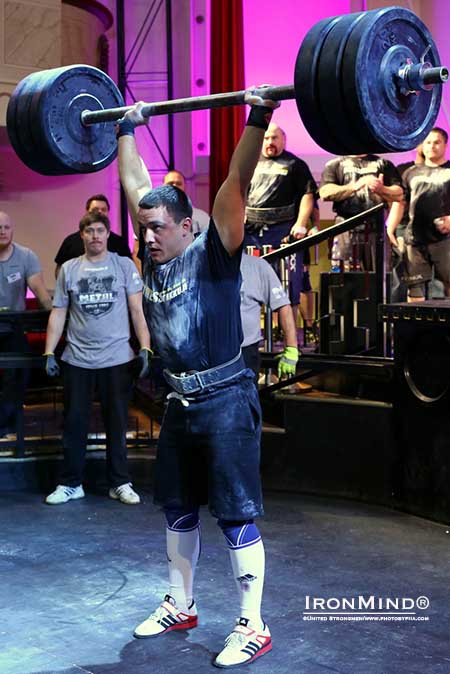 Valdas Kazakevicius, the inaugural United Strongmen 105-kg Men's Strongman world champion, set their world record on the IronMind Apollon's Axle Overhead Lift with this 160-kg success. IronMind® | Photo courtesy of United Strongmen/www.photobypiia.com


"Some of the highlights were for example our new world champion Valdas Kazakevicius doing a world record on the IronMind Axle Overhead lift (160kg) for 105kg class, along with the final battle of women´s class, where Kati Luoto and Kristin Rhodes battled face-to-face in the Farmer's hold.

"In the IronMind Grip Classic, the pre-favorite Alexey Tyukalov continued his control with his second win in a row - he also amused the crowd by doing shrugs with 200-kg Apollon´s Axle Double Overhand Deadlift. The inaugural Strongman Fitness® European Championhips were controlled by the Finns as Kirsi Järvi and Sami Pätäri won their classes," Rantanen said.

Here are the top three, by event.

IronMind Grip Classic III (2013)

Men
1. Alexey Tyukalov, RUS 5.5
2. Eirik Bruun Ingebritsen, NOR 10.5
3. Janne Virtanen FIN 12.5

Women
1. Anu Rytkönen FIN & Jaana Tanner FIN 4.5


United Strongmen® 105-kg Men's Strongman World Championships 2013

1. Valdas Kazakevicius, GB 31
2. Janne Hartikainen FIN 32
3. Harri Peltomaa FIN 38.5


United Strongmen® Women's Strongman World Championships 2013

1. Kati Luoto FIN 20
2. Kristin Rhodes USA 21.5
3. Anniina Vaaranmaa FIN 25.5



Strongman Fitness® European Championships 2013

Women

1. Kirsi Järvi FIN 15
2. Alina Leisiö FIN 16
3. Janne Grandalen-Flo NOR 26
Men

1. Sami Pätäri FIN 13,5
2. Anthony Cosentino ITL 18,5
3. Marius Halvorsen NOR 24


###



Want to talk strength? Join the IronMind Forum.

You can also follow IronMind on Twitter and on Facebook.