2012 World's Strongest Man: Finalists
After four grueling days of qualifiers, the field has been whittled down to ten competitors who will vie for the most coveted title in strongman—having made the cut already entitles each member of this group to call himself by the chest swelling title World's Strongest Man Finalist.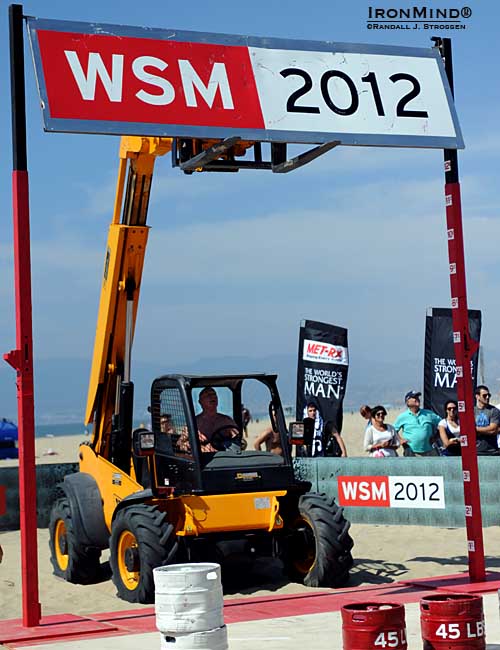 Yesterday, the qualifying heats began with the Keg Toss, an event that tests explosive power modulated by the need to maintain accuracy and also carrying the requirement of having sufficient stamina to make the full run before running out of gas. Misha Koklyaev (Russia) was expected to deliver a stunning performance and he did: Koklyaev hit the World's Strongest Man sign so hard with a barrel that he knocked it off its perch, but some intensive beach-based blacksmithing followed by all-purpose Jimmy Pollock threading the needle had the sign rehung and the show was back on the road in short order. Pollock received a standing ovation when he greased the landing. IronMind® | Randall J. Strossen photo.


Here is IronMind's best guess of who made it to to the finals, but keep your eye on the WSM website for the official announcement:

• Brian Shaw (USA)
• Mike Jenkins (USA)
• Johannes Arsjo (Sweden)
• Zydrunas Savickas (Lithuania)
• Jean-Francois Caron (Canada)
• Terry Hollands (UK)
• Krzysztof Radzikowski (Poland)
• Ervin Katona (Serbia)
• Hafthor Julius Bjornsson (Iceland)
• Vytautas Lalas (Lithuania)

The World's Strongest Man contest continues on Sunday, at the Commerce Casino—spectators are welcome.

###

The IronMind Forum: discuss this article, talk strength, get help with your training.

You can also follow IronMind on Twitter.