2012 WSM Experience: The Start List
Looking "to bring back the good times, when Finland´s Strongest Man™ was importing champs like Jón Páll Sigmarsson, Bill Kazmaier and O.D.Wilson to Finland," Jyrki Rantanen told IronMind, "We are happy to have the biggest men on strongman sport in our event —Brian and Haffi are both in 2-meter/200-kg range with huge power levels, so the challengers will have full day job if they want to get some scalps even in some events."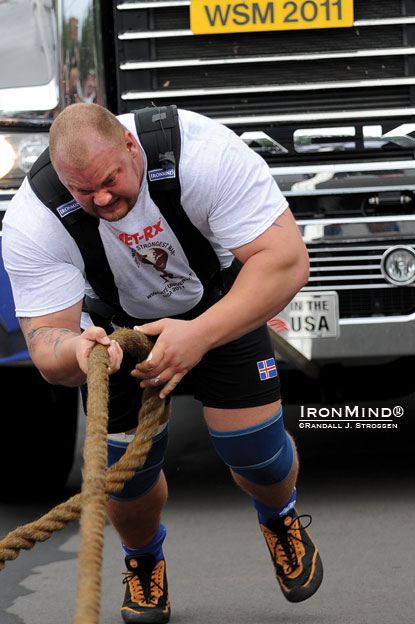 Iceland's Hafthor Julius Bjornsson motored away from the field and won the Truck Pull at the 2011 World's Strongest Man. IronMind | Randall J. Strossen photo.


Rantanen is organizing "King of the Castle" in Hameenlina, Finland on April 21 under the banner of the World's Strongest Man Experience.

Here is the official start list:

• Brian Shaw
• Hafthor Julius Bjornsson
• Jarno Jokinen
• Mika Jaakola
• Antti Mourujarvi
• Tarmo Mitt
• Rolands Gulbis
• Nicolai Hansen

Tickets will go on sale March 15 and it is anticipated that more details are on their way.

###



The IronMind Forum: discuss this article, talk strength, get help with your training.

You can also follow IronMind on Twitter.