2012 PROFORM WSF World Cup–Tashkent Announced
"We still work!," WSF founder Vlad Redkin told IronMind. "4th stage of PROFORM WSF World Cup will be on 25 of March in Tashkent, Uzbekistan."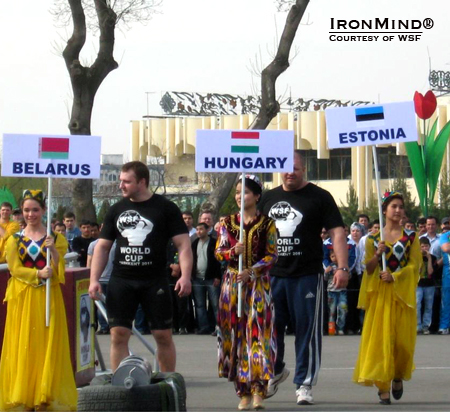 WSF World Cup strongman was in Tashkent, Uzbekistan in 2011 and will be returning later this month for the 2012 edition. IronMind® | Courtesy of WSF World Cup.


"I am very happy to present following list of athletes," Redkin said as he shared the official start list:

1. Mark Felix (UK)
2. Espen Aune (Norway)
3. Sergio Fernandez (Spain)
4. Kevin Nee (USA)
5. Tarmo Mitt (Estonia)
6. Antanas Abrutis (Lithuania)
7. Olekandr Lashyn (Ukraine)
8. Alex Lapirov (Belarus)
9. Elbrus Nigmatullin (Russia)
10. Krzysztof Radzikowski (Poland)
11. Sergei Trubicin (Uzbekistan)
12. Hamza Primov (Uzbekistan)

Redkin said that five or six events will be selected from the following list:

1. Log lift: 130 kg or Axle 130 kg—for reps
2. Farmer's walk: 2 x135 kg, 40 m—time
3. Super yoke: 330 kg, 25 m—time
4. Manhood stone: 180 kg
5. Deadlift: car for reps
6. Conan's wheel: 320 kg
7. Proform medley: log 140 kg, dumbell 70 kg, 85 kg, 100 kg.

###

The IronMind Forum: discuss this article, talk strength, get help with your training.

You can also follow IronMind on Twitter.