2012 IronMind Record Breaker
In the latest Odd Haugen-IronMind-FitExpo family of grip-strength events, the 2012 IronMind Record Breaker brought together established names and talented newcomers as they pitted the strength of their hands against five standardized tests of grip strength: Rolling Thunder, IronMind Hub, CoC Silver Bullet Hold, Little Big Horn, Apollon's Axle Double Overhand Deadlift.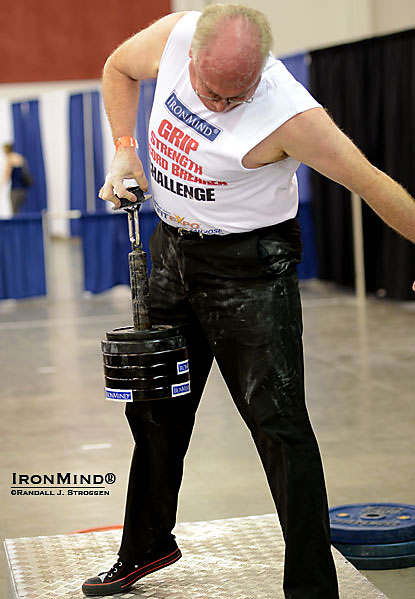 By day, Michael Corlett is a mild mannered Central California CPA, but as the sun edges toward the Pacific horizon, he transforms himself into Hubgeezer—not just the human tester who has established exactly what sort of beating an IronMind loading pin can take when dropped repeated onto concrete from about three or four feet—but also the owner of some of the top marks on the IronMind Hub. Yesterday, at the San Jose FitExpo, Corlett beat them all, taking home the top honors, not to mention winning a $100 IronMind gift certificate and putting his name in the books as the official American record holder. IronMind® | Randall J. Strossen photo.


Even without Mark Felix or Laine Snook on hand to show how to lift well over 300 lb. on the Rolling Thunder, Odd Haugen threatened to break the American record of 271 lb. set by Michael Burke at the Los Angeles FitExpo earlier this year.

Wasting no time after easily winning the Rolling Thunder event with a lifts of 227 lb. (Adam Glass and Martins Licis were next at 216 lb.), Odd jumped to 276 lb. (125.5 kg) as he deigned to take only a baby step in order to break Burke's record. Our favorite vise-gripped Viking gave it his best shot, but it was not to be that day, but at this point we'll let you in on a little secret: don't be surprised to see Odd pull this much in a contest because he recently posted a training lift in approximately this range.

Next up was the IronMind Hub and the smart money was staying with the the more experienced (more mature? how about older?) competitors and this time it was none other than Mike "Hubgeezer Corlett who was ready to send the kids to school. Mike nailed 64 lb. in his signature high-pull style, leaving Victor Beebe and Adam Glass in his wake as they were down a notch with 59-lb. lifts.

There was some feeling that the CoC Silver Bullet Hold world record might be under attack as it was rumored the emcee Clay Edgin had recently started playing around with grippers again, with the idea of going after the Silver Bullet Hold. First though, the casualties included two guys from the strongman contest who were new to grippers (might as well start at the top, right?). Mike Corlett and Adam Glass went out at 4.03 and 5.06 seconds respectively and the Jon Eklund, who is edging toward a certification attempt on the Captains of Crush (CoC) No. 3 gripper, dropped the field with an impressive time of 24.35 seconds. Not to be outdone, though, Clay Edgin put down the microphone for about half a minute as he gave the Silver Bullet a 29.62 second ride.

The IronMind Little Big Horn was created as a to make the time honored test of lift an anvil by the horn accessible to more people and something that could easily be integrated into grip contests. Adam Glass, who had come from Minnesota to be in this contest, crushed the field as he pulled 220 lb., 22 lb. over second place Martins Lincis, who in turn was 22 lb. ahead of third place Victor Beebe.

Time was when you had to look far and wide to find someone who could double overhand deadlift over 400 lb. on an IronMind Apollon's Axle, but the top three guys in this contest all did that, and after winning easily with an equally easy 440-lb. lift, Odd Haugen called for 230 kg. (507 lb.) in an attempt to break Rich Williams' record. Whoa—that's a number that got some attention!

Haugen hauled the weight off the floor but as soon as he stalled and was starting to hitch, he let go of the bar, knowing the lift would be turned down even if he completed it. Wonder why IronMind calls Haugen the AARP poster boy?

After the contest was over, the floor was opened up to anyone who wanted to give the Crushed-To-Dust! Challenge a try and after he blew through it with consummate ease, Adam Glass proved to be gripper coach extraordinaire as he gushed with enthusiasm, helping people position the CoC of their choice for best results, suggesting training routines, and in all ways being a top gripper ambassador.

Talking winners, the top lift on the IronMind Hub and Little Big Horn now become the official American records, so if you've got strength in those fingers of yours, turn them loose and let's see them perform.

Hats off to FitExpo for expanding to San Jose—really nice to have another venue for the best grip events going

###

The IronMind Forum: discuss this article, talk strength, get help with your training.

You can also follow IronMind on Twitter.