2012 IHGF World Team Championships: Start List
As part of the the Caledonian Club of San Franciso's 147th Scottish Highland Gathering & Games in Pleasanton, California over Labor Day weekend, the IHGF will hold its 2012 World Team Championships and IronMind has just received the official start list.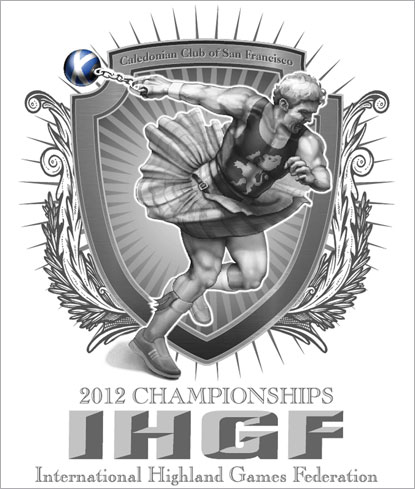 Steve Conway, the Caledonian Club of San Francisco Athletic Director, puts his fine art background on display with the T-shirts and posters he develops each year. IronMind® | Artwork courtesy of Steve Conway and the Caledonian Club of San Francisco.


The 2012 - IHGF World Highland games Team Championships to be host by the Caledonian Club of San Francisco, these championships will be part of the organization's 147th Scottish Highland Gathering and Games in Pleasanton.

More than 50,000 spectators are expected to gather for what Francis Brebner calls "America's most prestigious Highland Games," and headlining the Heavy Events will be "14 of the world's top Highland Games athletes" who be will competing in seven two-teams teams, battling it out for World Highland Games Team Championships.

Here are the teams, officially:

Team Europe: Criag Sinclair (Scotland) and Hans Lolkema (Holland)
Team Poland : Sebastian Wenta and Lucas Wenta
Team Canada: Matt Doherty and Danny Frame
Team USA-1: Dan McKim and Jon O'Neil
Team USA-2: Matt Vincent and Mike Zolkiewicz
Team-USA-3: Sean Betz and Rusty Price
Team-USA-4: Mike Pockoski and Ryan Vierra

###

The IronMind Forum: discuss this article, talk strength, get help with your training.

You can also follow IronMind on Twitter.