2012 Giants Live–Europe's Strongest Man
"Darren Sadler is stepping up to the plate as a promoter in 2012," Giants Live director Colin Bryce told IronMind today and by the sound of things Sadler is poised to hit the long ball.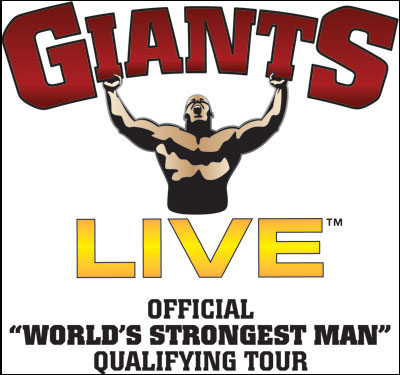 Giants Live and Darren Sadler are teaming up to present Europe's Strongest Man, with a big title and a big prize—not to mention three World's Strongest Man invitations—on the line. IronMind® | Courtesy of Giants Live.



"He is doing a big show in Leeds, UK" said Bryce, "Along with Giants Live, Darren is helping to stage Europe's Strongest Man on June 23, at the Headingly Carnagie Stadium.

"So, Darren Sadler, former World's Strongest Man competitor, is turning his physical prowess into promoting power.

"The lineup of athletes is the who's who of European strongman, with more names to be organized through qualification processes in the coming months:

• Zydrunas Savickas
• Terry Hollands
• Laurence Shahlaei
• Mark Felix
• Hafthor Julius Bjornsson
• Stefan Solvi Petersson
• Vytautas Lalas

"This will certainly be a chance for Terry Hollands and Laurence Shahlaei to fight it out as to who is the Britain's number one and also try and dethrone the Big Z for the European title. Savickas is arguably the world's strongest of all time and looking to retake the Worlds Strongest Man title. This will be a chance for fans to see him live before the Worlds in September.

"The events will include:

• Maximum Deadlift
• Overhead Medley
• Tombstone Carry
• Medley load
• Atlas Stones

"The first place prize may be a factor in luring these big names as it is a new model of 4x4 truck that is entering the UK market: It is a Great Wall Steed S worth an estimated £25,000 (approximately $40,000) when it is launched in the UK this year.

Stay tuned for updates and please visit www.europestrongestman.com for more details, including ticket information.

###



Visit the IronMind Forum: talk strength, discuss this story. Strongman, grip, Highland Games, Olympic lifting, stones and more.

You can also follow IronMind on Twitter.