2012 Giants Live British Championships
Yes, it's the Giants Live British Championships, so it will include such household names from the professional strongman circuit as Terry Hollands, Laurence Shahlaei and Mark Felix, along with Jack MacIntosh, Rob Frampton and Ed Hall—big stuff for not just for British strongman fans, but also for everyone who follows the sport at an international level.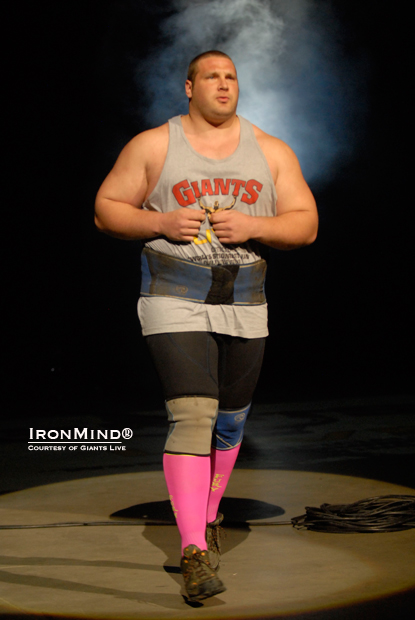 Terry Hollands, a smoking hot strongman, is among the headliners set to compete at the Giants Live British Championships on May 26. IronMind® | Photo courtesy of Giants Live.


"The lineup is looking great," Colin Bryce told IronMind.

"The following men are invited:

England
Terry Hollands
Laurence Shahlaei
Jay Hughes
Jack MacIntosh
Tom Shaw
Gary Gardner
Mark Felix
Rob Frampton
Graham Hicks

Wales
Richard Smith

Southern Ireland
Richard Fennely

Northern Ireland
Brian Irwin


"Glenn Ross of ISA will be doing two more contests on the 24th and 31st of March for more Northern and Southern Ireland athletes.

"Scotland has its big qualifier this weekend and the top two are expected to be invited down.

"England already had a qualifier run by Darren Sadler and Welsh and Irish event was run by Dave Warner.

"To be honest it has been a great collaboration of former strongmen to help find the top men. Darren Sadler, Glenn Ross, Dave Warner and Stuart Murray plus many more have all helped put contests on to find the best. I am really pleased the way a lot of great former athletes have pulled together to find the British talent. I believe this is the start of many more British events which will include all of these promoters working towards the ultimate goal of finding the World's Strongest Man.

"The event is apart of the Hercules Olympia 2012 which will be held at the Essex Arena, Five Lakes Crowne Plaza Resort, Colchester. This year the Mr. Hercules International and Miss Aphrodite International will also be included in this Expo that has hopefully be a bit of strength gold. Also at the show will be raw power lifting, boxing, mixed martial arts and other disciplines, as well as many trades stands and interactive competitions. So we hope to see many strength fans down there. The events will include a Max Deadlift and Max Log. This will not be a show for the feint hearted!," said Bryce.
Tickets are available at: The Ticket Factory.

### 


The IronMind Forum: discuss this article, talk strength, get help with your training.

You can also follow IronMind on Twitter.