The United States All-Round Weightlifting Association National Championships were yesterday and Thom Van Vleck filed a highlights report with IronMind.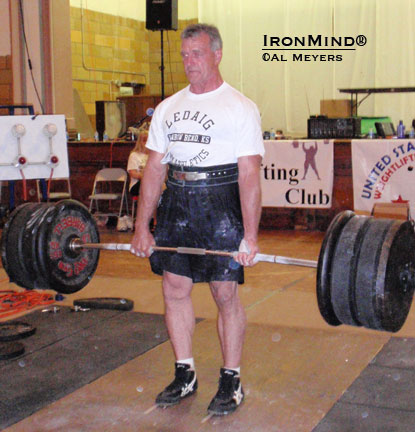 "Larry Traub (age 57) shown pulling a 560-lb. 12" base deadlift while winning the overall best lifter award at the 2011 USAWA Nationals," reported Thom Van Vleck. IronMind® | Al Meyers photo.


2011 USAWA Nationals
by Thom Van Vleck

The USAWA (United States All-Round Weightlifting Association) contests well over a hundred different lifts and keeps thousands of records. There are age groups (for junior and masters) and weight class champions. Then, an overall champion is decided based on an age and weight adjustment.

This year's overall champion was one of the most closely contested in years. Larry Traub (age 57 and 9-time Masters USPL National Champion and IPF World Champion) beat out Professional Strongman Eric Todd (age 36) by an adjusted score of 1668.7 to 1665.1. In 3rd place was Chad Ullom, the current IAWA (International All-Round Weightlifting Association) World Champion.

Lifts are selected from the vast list of lifts the USAWA contests and this year the lifts included the Zercher Lift, Deadlift 12" base, Pullover and Push, Dumbbell Snatch, Cheat Curl, and Continental to the Chest (2" bar).

Please check the USAW website for full results.

###



The IronMind Forum: discuss this article, talk strength, get help with your training.

You can also follow IronMind on Twitter.