2011 SCL Finals: $15,000 for the Winner
SCL cofounder Marcel Mostert told IronMind that "Due to some political problems we had to postpone the finals," which are now scheduled for January 28, still in the Ukraine.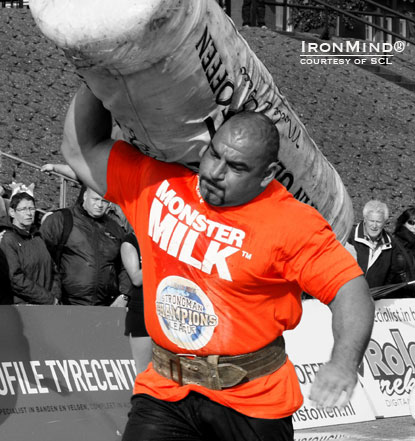 On paper, both Ervin Katona and Zydrunas Savickas could win the 2011 Monster Milk SCL World Championships, but coming into the finals, the edge has got to go to the current series leader, Ervin Katona (above). IronMind® | Courtesy of SCL.


"In cooperation with UFSA [Ukrainian Federation of Strength Athletes] we will have this competition in a great ambiance with a spectacular background. It will be very exciting. Zydrunas Savickas or Ervin Katona can still win the title!

"And, besides the normal prize money for the athletes, there will be an overall prize for the overall winner: The Monster Milk SCL World Champion 2011 will get US$15,000 with many thanks to our great main sponsor, Monster Milk," said Mostert.

Coming into the finals in the Ukraine here are the top three:
| | | |
| --- | --- | --- |
| 1. | Ervin Katona (Serbia) | 165 |
| 2. | Zydrunas Savickas (Lithuania) | 125 |
| 3. | Laurence Shahlaei (Iran) | 106 |
For the full standings, please visit the official SCL website.

###

The IronMind Forum: discuss this article, talk strength, get help with your training.

You can also follow IronMind on Twitter.