2011 IHGF Amateur Highland Games World Championships
"2010 will see the beginning of the first stages of all amateur Highland Games athletes qualifying for the inaugural IHGF World Amateur Heavy Events Championships, which has been set for Spokane, Washington [USA]," IHGF vice president Francis Brebner told IronMind® today.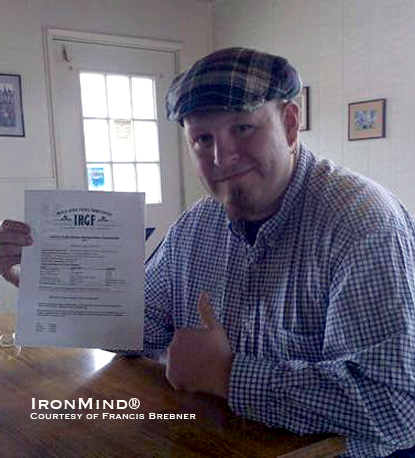 Jon McKenzie shows the IHGF contract that makes it official: the Spokane Highland Games will host the 2011 IHGF Amateur Highland Games World Championships. IronMind® | Courtesy of Francis Brebner.


"Jon McKenzie, the athletic director for the Spokane Highland Games (where the championships are to be hosted), said these Games have been running for over 50 years," reported Brebner.

"When I took control of the athletics program last fall, I made a commitment of making the Spokane Highland Games an athletic event that would be a memorable for not only our guests and visitors, but for the athletes as well. I come from a very proud Scottish family that has been a major influence in my day to day life and long term aspirations," McKenzie said.

"A total of 10 countries from around the world that are affiliated with the International Highland Games Federation (IHGF) will be part of the process producing a total of 12 top ranking amateur athletes who will qualify for these championships," explained Brebner, "with the overall winner of the IHGF World Amateur Championships earning his professional status and also securing himself a guaranteed place in the professional IHGF World Heavy Events Championships for 2012."

Brebner told IronMind® these countries will be participating:

France
Belgium
Holland
Iceland
Scotland
Germany
USA
Canada
New Zealand
Australia

Brebner also told IronMind® that information will follow on IHGF amateur ranking clinics, with athletes' scores from the ranking clinics used to qualify for the championships.