2011 All-American Strongman and Visegrip Viking Challenge
Los Angeles based FitExpo has an impressive array of strength-related events, and among the headliners are are Odd Haugen's All-American Strongman and Visegrip Viking Challenge.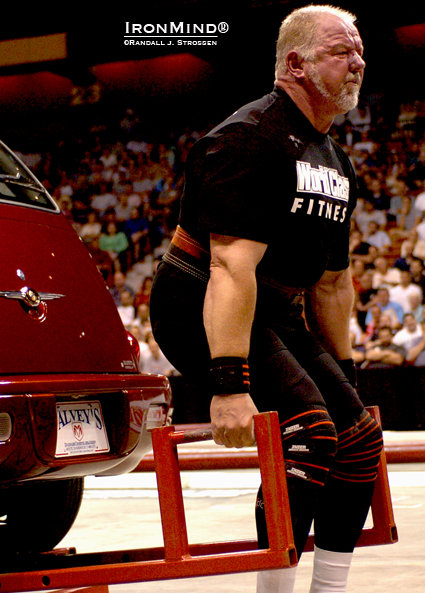 Like many top strongman competitors, Odd Haugen has got quite a grip, even though he's not a grip-strength specialist. IronMind® | Randall J. Strossen photo.



The action starts at noon on January 29 with the All-American Farmer's Walk, and one hour later, the Visegrip Viking Grip Challenge begins with the Rolling Thunder®, run with a last man standing format. At 1:45, the grip contest continues with a medley and 2:45, the strongman follow suit with a medley of their own. Saturday's action wraps up for the grip guys with the Fishing Pole Wrist Roller Challenge at 3:30 and for the strongman competitors at 4:30 with the Louis Cyr barbell deadlift, run as a last man standing challenge.

At 10:15 the next day (Sunday, January 30), the strongman competitors have a Super Yoke race and at 11:15 the grip guys attack the double overhead deadlift using an IronMind Apollon's Axle. At noon, it's an overhead lifting medley on the strongman side and at 12:45 its a Hercules Hold for the grip guys. The final grip event, deadlifting a replica Thomas Inch dumbbell for reps, is at 1:30 and half an hour later, the strongmen conclude by lifting an Atlas Stone over a bar for reps.
Please check the official FitExpo website for full details.

###


Want to comment on this article or just want to talk strength? Join the IronMind Forum!

You can also follow IronMind on Twitter.