2011 ASC Amateur Strongman World Championships
In 2010 Dione Wessels brought the amateur strongman world championships to the Arnold, featuring 49 competitors and 17 countries, and this year she is expecting 60 competitors representing 25 countries—a field that Wessels said brings the Arnold the broadest international representation of any event on its broad program.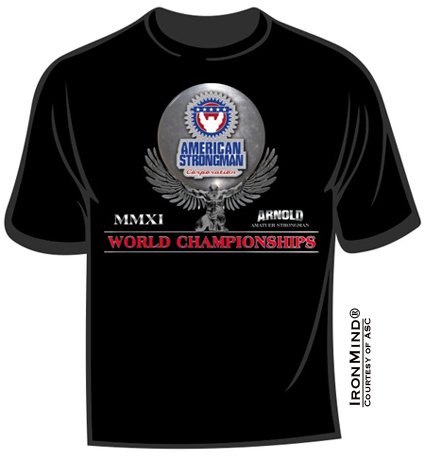 The Amateur Strongman World Championships are a challenge and reward in themselves, but the winner also gets an invitation to the Arnold's professional strongman contest—known for its big prizes and heavy events. IronMind® | Courtesy of ASC.


Wessels and her husband, Willie, took amateur strongman from an occasional backyard contest to an organized system that was developed first in the US and is now gaining traction around the world. Accordingly, when these guys descend on Columbus, Ohio in March, they will be fighting for the Amateur Strongman World Championships, plus "an opportunity to earn a golden ticket to one of the most recognized strongman events in the world, the Arnold Strongman Classic that is put on by Dr. Terry Todd," Wessels said.

Asked what sets strongman apart, Wessels told IronMind, "Strongman is special because it involves athletes from all types of backgrounds such as farmers, powerlifters, Olympic lifters, bodybuilding, track and field, laborers, professionals, etc. An athlete does not have to be blessed with [the] great genetics [required] to exhibit a flawless physique [of a bodybuilder]. Strongman not only exhibits functional strength but also a great deal of entertainment as well.

Two strongman contests? What's the same and what's different?

"The professional strongman typically gets paid to compete whereas the amateur strongman pays to compete," Wessels said, but the differences don't end there at the Arnold.

In the amateur contest, "the weights are about 10 percent lighter," and will have "more head-to-head competition and more moving events than the professionals due to the stage and limited space," said Wessels.

Watch this news column and the ASC website for more details.

###


Want to comment on this article or just want to talk strength? Join the IronMind Forum!

You can also follow IronMind on Twitter.