2010 Queen Mary Highland Games
The Highland Games are alive and growing in Southern California, with the Queen Mary Highland Games getting the ball rolling February 13-14.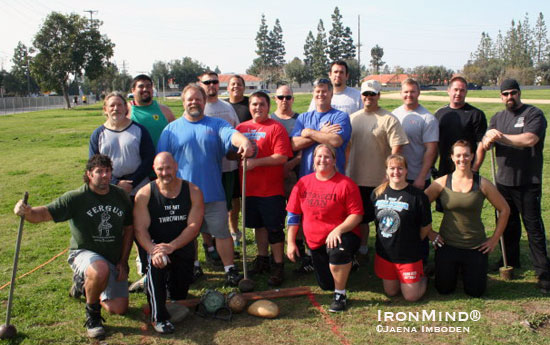 IHGF vice president Francis Brebner has begun a series of Highland Games seminars in Southern California, helping them prepare for this season's competitions. IronMind® | Photo by Jaena Imboden.

The Queen Mary Highland Games this weekend [February 13-14] will kick off this year's calendar of action-packed traditional Games in Southern California organized by Dave Garman of the SAAA.

"The Games will be held in the field opposite the site of the retired passenger liner the formidable Queen Mary, with the tranquil backdrop of the harbour," Francis Brebner told IronMind® today. "It will come to life this weekend with the hustle and bustle of thousands of spectators, who travel from near and far to watch the sights and sounds of the pipe bands, Highland dancing, and the many top amateur athletes - like Steve Ullom, Ian Connell, Ed Green, Brian Austin, Greg Brady, and West Imboden - from Southern California, battling it out over the two-day event."