2010 Jon Pall Sigmarsson Classic: Competitors and Events
Hjalti Arnason, who is organizing the 2010 Jon Pall Sigmarsson Classic, a strongman contest that will be featured in the inaugural Icelandic Fitness and Health Expo in November, has given IronMind® the official list of competitors and events.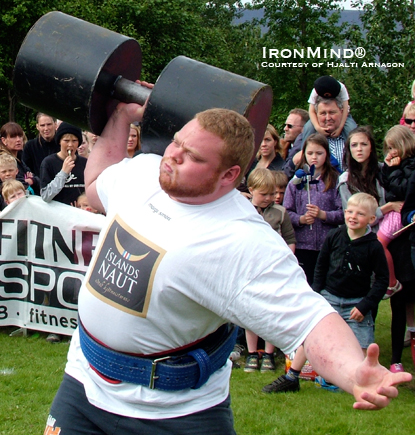 Benedikt Magnusson, known as the man who can deadlift anything that's not nailed to the floor and just about anything that is, will be competing at the upcoming Jon Pall Sigmarsson Classic. Benedikt Magnusson won the 85-kg Circus Dumbbell lift at the recent Iceland's Strongest Man contest. IronMind® | Photo courtesy of Hjalti Arnason.


Here is the official start list:

Stefán Sölvi Pétursson
Benedkt Magnússon
Hafþór Julius Björnsson
Dave Ostlund
Brian Shaw
Richard Skog
Mark Felix

"We could add some more," Hjalti Arnason told IronMind®, so stay tuned.

The events will be:

Deadlift
Farmer's Walk
Arm-over-arm Pull
Circus Dumbbell
King of the Stones

More details on the events will follow, but Arnason did tell IronMind® that the King of Stones will feature "a mix of natural and Atlas stones," so watch for some interesting details in this contest.

Please visit the official 2010 Icelandic Fitness and Health Expo website for more information.


Want to talk strength? Join the IronMind® Forum!

You can also follow IronMind® on Twitter.