2010 IHGF World Heavy Events Team Championships
International Highland Games Federation (IHGF) president David Webster, OBE has announced that the New Hampshire Highland Games (NHHG) have been named to host the 2010 IHGF World Heavy Events Team Championships.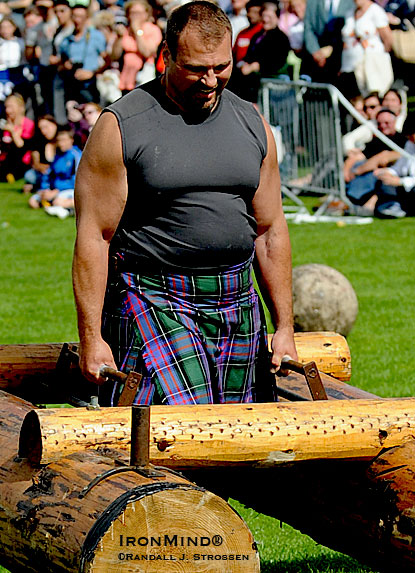 Bill Crawford, M.D. took a brief break from stone lifting as he was part of the team demonstrating strongman events at the 2009 IHGF World Heavy Events Championships. IronMind® | Randall J. Strossen photo.


"The New Hampshire Highland Games are known very well for the high standard that they uphold each year by bringing in the best athletes and other attractions from all over the world," Francis Brebner told IronMind®. "This made it the perfect location for the IHGF World Team Championships." Brebner added that the organizers are, "especially known for their friendliness and first-class hospitality."

"The New Hampshire Highland Games are excited to be the hosting this prestegious event. The NHHG will be celebrating our 35th anniversary and starting a relationship with the IHGF and the Team Championships will be a great part of our celebration," Dr. Bill Crawford, NHHG Chairman of Athletics, told IronMind®. "To have a competition of this caliber is an honor as we have promoted competition of the highest level. The IHGF organization is itself in able hands with Francis Brebner, David Webster and Ryan Vierra, a legendary and trustworthy team of Scottish Heavy Athletics luminaries. Also adding to the prestige will be our inclusion in the IHGF Super Series."

"The IHGF is taking steps to be the world's recognized governing body of Scottish Heavy Athletics and we are proud to be part of this momentous step towards a bright future," Brebner said.

World teams picked for this championships will be finalized soon.