2010 IHGF Masters' World Heavy Events Championships Lineup
The population is aging (well) and one benefit is that some big names continue their careers by competing as masters - and the upcoming IHGF invitational Highland Games world championships for masters is a perfect example.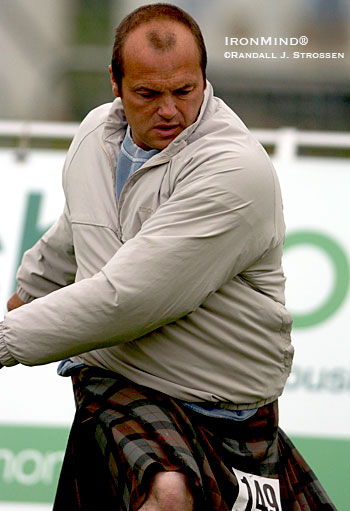 Alastair Gunn - who once inspired IronMind® to quote the line, "It's not the size of the dog in the fight, but the size of the fight in the dog" - is among the leading names who will be showcased at the 2010 IHGH World Heavy Events Championships. IronMind® | Randall J. Strossen photo.


Francis Brebner filed this report for IronMind®.

2010 IHGF Masters' World Heavy Events Championships Lineup
by Francis Brebner

The lineup for the 2010 IHGF Invitational Masters' World Heavy Events Championships is now finalized, and it boasts big, legendary names in the sport that have competed in the last two decades.

Brebner said, "With a lineup like this, one thing is for sure, that masters' world records will fall, of that I am certain."

Ryan Vierra said, "I am very excited about this Masters' World Invitational Championships and knowing that we have the best masters from around the world accepting the invitation ensures this is going to be one tough clash. With the addition of the World Weight-Over-the-Bar Championships, I think we could be in for some real surprises with all these big names in the sport being present. It will be a good transition for me competing in this championships as I move into the masters' category after next year."

Here is the lineup:

Wout Zijlstra - Holland

Petur Gudmundsson - Iceland

Anthony Lordi - Switzerland
Dirk Bishop - Canada
Mike Baab - USA
Ryan Vierra - USA
Gene Flynn - USA
Don Stewart - USA

Alistair Gunn - Scotland

Steve Aitkin - Scotland
Harry Bergsma - Belgium
wild card - Belgium

Stay tuned for more details.