2010 CLEAR Queensboro Arm Wrestling Championships
Founder and president of the New York Arm Wrestling Association (NYAWA) Gene Camp has announced the 2010 CLEAR 33rd Annual Queensboro Arm Wrestling Championships: a 2-day contest that with include junior and novice divisions, as well as classes where "contestants will attempt to qualify for the year-end Empire State Arm Wrestling Finals."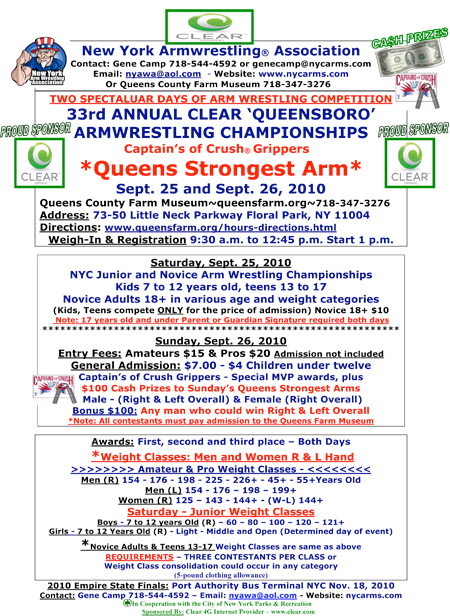 From rank beginners to the world's best, the 2010 CLEAR Queensboro Armwrestling Championships will have it all. IronMind® | Courtesy of New York Arm Wrestling Association (NYAWA).


"The 33rd Annual CLEAR Queensboro Armwrestling Championships are part of the New York 'Golden Arm' Series, which consists of up to six preliminary championships held in each of the five NYC Boroughs and Long Island and culminates into the Empire State finale. Due to budget crises this year the NYAWA could only produce two qualifying events which means the Empire State Finals could be an open walk-in competition. The Empire State Golden Arm Tournament of Champions will be held on November 18, 2010 at the Port Authority Bus Terminal's North Wing/Main Concourse at 625 8th Ave. in NYC."

Camp said that this contest goes back to 1977, making it, "the oldest of all the NYC Borough championships. [It] is also one of the most exciting events of the NY Golden Arm Series because Queens has the best-ranked arm wrestlers of the entire city and challengers have come from far away as Russia, Turkey, Brazil and other foreign lands for the challenge. We are also excited about crowning the NYC Junior Arm Wrestling Champions, which is a certain audience crowd pleaser.


"There are 13 Amateur and Pro weight class categories and awards will be given to first, second and third place winners. IronMind.com - Captains of Crush Grippers (CoC) Queensboro Strongest man and women will receive the Queens CoC MVP and $100 cash prizes."

For full details, please visit New York City Armwrestling.

###


Want to talk strength? Join the IronMind Forum!

You can also follow IronMind on Twitter.