2010 Armwrestling: "The Road to Las Vegas Goes Through Billings"
Leonard Harkless and Denise Wattles of the US Armwrestling Association are in the midst of something like a 40-tournament year, showing the popularity of armwrestling and the demand for their expertise.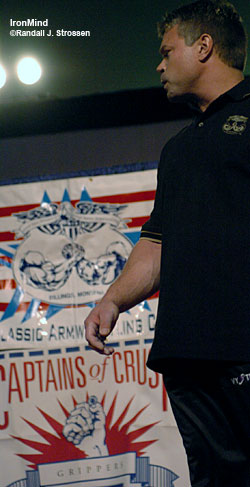 A lethal weapon of a different sort: the John Brzenk forearm gets a rest in between mowing down opponents. IronMind® | Randall J. Strossen photo.


Already looking forward to 2010, Harkless and Wattles told IronMind® today that their hometown of Billings, Montana will host the Unified US National Armwrestling Championships and then the 2010 WAF World Championships will be held in Las Vegas. Approximate timing for the nationals is the first week of August and for the worlds, the first week of December is looking likely.

"So we're saying, 'The Road to Las Vegas Goes Through Billings,'" Harkless and Wattles said.

Stay tuned for more details.