2009 Rolling Thunder® World Championships
The 2009 IronMind Rolling Thunder® World Championships are confirmed for Friday night, June 26, when they will set the stage for Fortissimus, the top-tier strongman contest.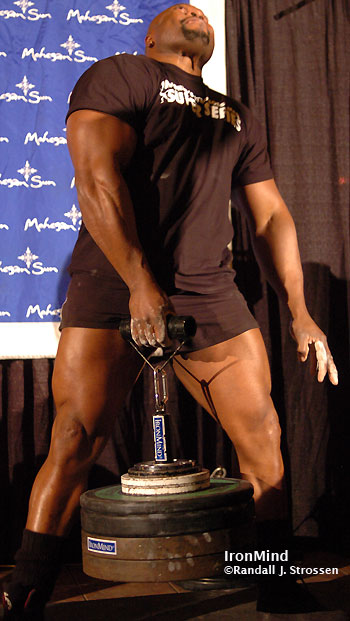 It's the all-time high water mark: In 2008 Mark Felix set this sensational 301-pound world record on the Rolling Thunder at the Mohegan Sun. Will this number be challenged at the 2009 Rolling Thunder World Championships next month? IronMind® | Randall J. Strossen photo.

"Since IronMind® developed it in 1993, the Rolling Thunder has established itself as a worldwide standard of grip strength: it is one of the three elements that make up the world's top grip event - the GNC Grip Gauntlet - and it has an unrivaled record as a jousting ground for the world's strongest men to test their grip strength," said IronMind® founder and president Randall Strossen. "The Rolling Thunder is rooted in the great tradition of thick-handled, one-hand deadlifts and because of this lineage, IronMind® is particularly pleased to partner with Fortissimus as the host for the 2009 Rolling Thunder® World Championships."

"Amongst the great feats of strength, the one-hand deadlift has been a favorite for more than a century. It made many a strongman famous, as we think of Donald Dinnie, Louis Cyr, Hermann Goerner, to name the few that reached fame with memorable lifts," said Paul Ohl, president of Fortissimus 2009, the man who was pivotal in creating for Quebec a world-class strongman contest that was true to history, turning a dream into a reality.

"With the introduction of the Rolling Thunder, IronMind® has linked with the roots of strongman and revived a very significant test of strength: the mighty grip," continued Ohl. "Fortissimus is happy to join IronMind® and stage the IronMind® Rolling Thunder® World Championships. It will be the prelude to 2009 Fortissimus Strongest Man on Earth, with the top of the class at hand to face the mighty challenge.

"I was fortunate to witness Mark Felix's world record of 301 lb. last year at the Mohegan Sun," said Ohl. "I sincerely wish that the city of Montmagny will be the place where the record could be equalled or even surpassed."

IronMind® is putting up US$500 for first place, US$300 for second place and US$200 for third place, all paid in cash, as well as a bonus IronMind® gift certificate that will match in US dollars the poundage of the top lift that exceeds the 301-pound world record lift done by Mark Felix at the Mohegan Sun in 2008. Lift 308 pounds, for example, and take home a US$308 IronMind® gift certificate, along with the prize money.

More details will follow.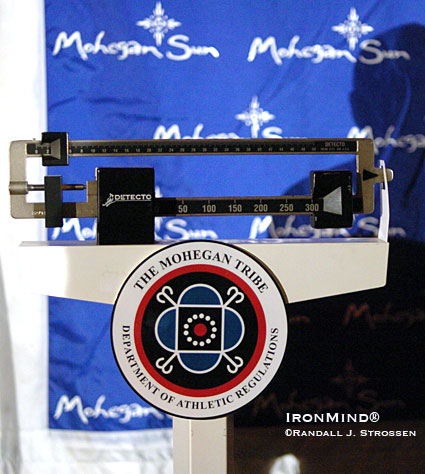 301 pounds - the best ever in the Rolling Thunder. Break that record at the world championships and you will pocket an IronMind® gift certificate equal in US$ to what you lifted in pounds. IronMind®