2009 Highlander Challenge: Highland Games + Strongman, With a Twist
Looking toward continued expansion, the 2009 Highlander Challenge is tentatively scheduled for filming on July 14 -15 and the 18 - 19, and among the top competitors asked to reserve these dates are Sean Betz, Larry Brock, Sebastian Wenta, Aaron Neighbour, Johannes Arsjo, Mikhail Koklyaev, Dave Barron, Mike Zolkiewizc, Wout Zijlstra and Scott Rider.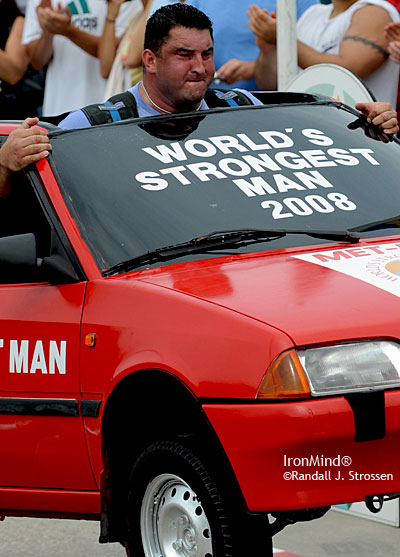 Sebastian Wenta takes a walk on the wild side at the 2008 World's Strongest Man contest. Wenta is the 2007 and 2008 Highlander Challenge world champion. Will he three-peat in 2009? IronMind® | Randall J. Strossen, Ph.D. photo.

"The series has attracted record TV audiences here in the UK and has attracted considerable interest at the MIPTV festival in Cannes last week," according to the organizers. "Our official distributor is CANAMEDIA, who will also be dealing with the DVD distribution in the near future."

Gregor Edmunds, who has been working hard on this series with his father, Douglas, said, "This is the biggest opportunity we have of establishing our sport as a worldwide media event, and hopefully leading athletes will be recognised and receive appropriate rewards."